Immersion (NASDAQ:IMMR) is scheduled to announce its earnings results after the market closes on Thursday, February 22nd. Analysts expect the company to announce earnings of ($0.18) per share for the quarter.
Shares of Immersion (NASDAQ IMMR) opened at $10.18 on Thursday. The stock has a market capitalization of $283.74, a PE ratio of -4.16, a P/E/G ratio of 1.85 and a beta of 1.82. Immersion has a 12-month low of $5.76 and a 12-month high of $11.85.
In other Immersion news, major shareholder Raging Capital Management, Llc purchased 326,366 shares of Immersion stock in a transaction that occurred on Friday, December 15th. The stock was acquired at an average price of $6.58 per share, for a total transaction of $2,147,488.28. The purchase was disclosed in a document filed with the Securities & Exchange Commission, which is accessible through the SEC website. In the last ninety days, insiders purchased 1,432,482 shares of company stock worth $10,166,370. 7.22% of the stock is owned by company insiders.
A number of analysts recently issued reports on IMMR shares. B. Riley reaffirmed a "buy" rating and issued a $12.25 target price on shares of Immersion in a research report on Tuesday, January 30th. Craig Hallum reaffirmed a "buy" rating and issued a $15.00 target price (up previously from $12.00) on shares of Immersion in a research report on Monday, January 29th.
Zacks Investment Research
raised Immersion from a "hold" rating to a "buy" rating and set a $7.25 target price on the stock in a research report on Thursday, November 9th. Finally,
ValuEngine
raised Immersion from a "strong sell" rating to a "sell" rating in a research report on Friday, December 1st. One investment analyst has rated the stock with a sell rating, one has issued a hold rating and five have assigned a buy rating to the company's stock. The stock presently has a consensus rating of "Buy" and an average price target of $11.75.
ILLEGAL ACTIVITY WARNING: This news story was first reported by American Banking News and is owned by of American Banking News. If you are reading this news story on another website, it was stolen and reposted in violation of international trademark & copyright laws. The original version of this news story can be read at https://www.americanbankingnews.com/2018/02/15/immersion-immr-scheduled-to-post-quarterly-earnings-on-thursday.html.
About Immersion
Immersion Corporation is a licensing company focused on the creation, design, development and licensing of haptic technologies that allow people to use their sense of touch when operating digital devices. The Company develops, licenses and supports a range of software and intellectual property (IP). It is focused on the markets, including mobile devices, wearables, consumer, mobile entertainment and other content; console gaming; automotive; medical, and commercial.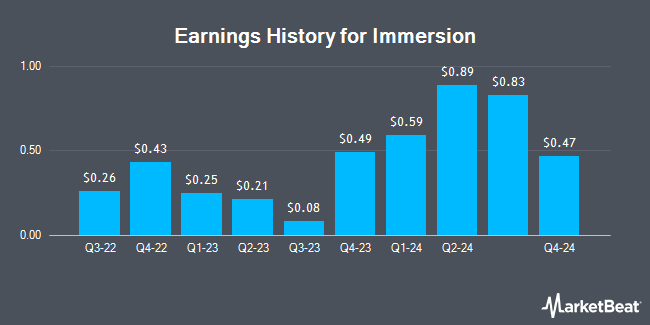 Receive News & Ratings for Immersion Daily - Enter your email address below to receive a concise daily summary of the latest news and analysts' ratings for Immersion and related companies with MarketBeat.com's FREE daily email newsletter.