Kinross Gold Co. (TSE:K) (NYSE:KGC) – Investment analysts at Desjardins reduced their Q4 2017 earnings per share (EPS) estimates for shares of Kinross Gold in a report released on Tuesday. Desjardins analyst J. Wolfson now forecasts that the company will earn $0.05 per share for the quarter, down from their previous forecast of $0.06. Desjardins has a "Sell" rating on the stock.
Other equities research analysts have also recently issued research reports about the company. Canaccord Genuity boosted their target price on Kinross Gold from C$7.75 to C$8.00 in a report on Friday, October 20th. National Bank Financial boosted their target price on Kinross Gold from C$6.50 to C$7.50 in a report on Friday, January 26th. Eight Capital reissued a "neutral" rating on shares of Kinross Gold in a report on Thursday, November 16th. Finally, Macquarie boosted their target price on Kinross Gold from C$6.00 to C$7.00 and gave the stock an "outperform" rating in a report on Monday, November 13th. Two equities research analysts have rated the stock with a sell rating, two have issued a hold rating, five have given a buy rating and one has assigned a strong buy rating to the company's stock. The stock presently has a consensus rating of "Buy" and an average price target of C$6.59.
Shares of Kinross Gold (
K
) opened at C$5.36 on Thursday. Kinross Gold has a twelve month low of C$4.24 and a twelve month high of C$6.29. The company has a market capitalization of $6,680.00, a P/E ratio of 48.73 and a beta of -0.18.
TRADEMARK VIOLATION WARNING: "Kinross Gold Co. (K) Expected to Earn Q4 2017 Earnings of $0.05 Per Share" was posted by American Banking News and is the property of of American Banking News. If you are viewing this article on another website, it was stolen and republished in violation of US & international copyright and trademark laws. The original version of this article can be read at https://www.americanbankingnews.com/2018/02/15/kinross-gold-co-k-expected-to-earn-q4-2017-earnings-of-0-05-per-share.html.
Kinross Gold Company Profile
Kinross Gold Corporation, together with its subsidiaries, engages in the acquisition, exploration, and development of gold properties. The company's gold production and exploration activities are carried out principally in Canada, the United States, the Russian Federation, Brazil, Chile, Ghana, and Mauritania.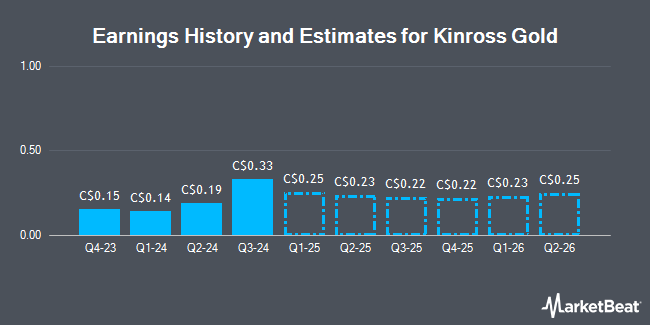 Receive News & Ratings for Kinross Gold Daily - Enter your email address below to receive a concise daily summary of the latest news and analysts' ratings for Kinross Gold and related companies with MarketBeat.com's FREE daily email newsletter.