ZIX (NASDAQ:ZIXI) is scheduled to be issuing its quarterly earnings data after the market closes on Thursday, February 22nd. Analysts expect the company to announce earnings of $0.08 per share for the quarter.
Shares of ZIX (NASDAQ:ZIXI) opened at $4.09 on Thursday. The stock has a market cap of $225.86, a PE ratio of 31.46, a price-to-earnings-growth ratio of 1.41 and a beta of 1.07. ZIX has a twelve month low of $3.88 and a twelve month high of $6.67.
ZIXI has been the subject of a number of recent research reports. Dougherty & Co cut their price objective on shares of ZIX from $7.00 to $5.75 and set a "buy" rating for the company in a report on Thursday, November 16th. BidaskClub raised shares of ZIX from a "strong sell" rating to a "sell" rating in a report on Friday, December 15th. Finally, Zacks Investment Research downgraded shares of ZIX from a "buy" rating to a "hold" rating in a report on Wednesday, December 27th.
In other ZIX news, VP Dave Robertson sold 39,821 shares of the business's stock in a transaction dated Friday, November 17th. The shares were sold at an average price of $4.64, for a total value of $184,769.44. The transaction was disclosed in a filing with the Securities & Exchange Commission, which is available at
this link
. Insiders own 4.50% of the company's stock.
ILLEGAL ACTIVITY WARNING: "ZIX (ZIXI) Set to Announce Quarterly Earnings on Thursday" was originally posted by American Banking News and is the sole property of of American Banking News. If you are accessing this article on another domain, it was copied illegally and republished in violation of international copyright & trademark laws. The correct version of this article can be read at https://www.americanbankingnews.com/2018/02/15/zix-zixi-set-to-announce-quarterly-earnings-on-thursday.html.
About ZIX
Zix Corporation offers e-mail encryption, data loss prevention and bring-your-own-device (BYOD) security to meet business data protection and compliance needs. The Company operates through e-mail encryption and security solutions. Its Zix Email Encryption enables the secure exchange of e-mails that include sensitive information through a secure messaging service.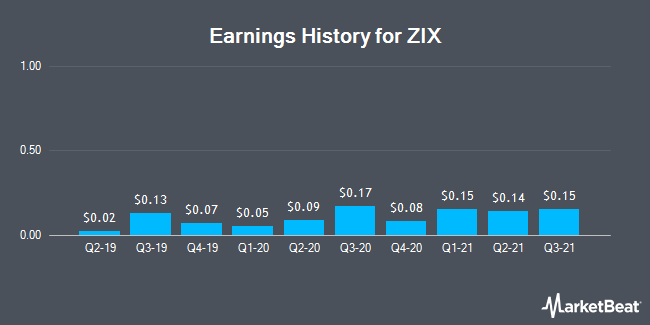 Receive News & Ratings for ZIX Daily - Enter your email address below to receive a concise daily summary of the latest news and analysts' ratings for ZIX and related companies with MarketBeat.com's FREE daily email newsletter.