Detour Gold (TSE:DGC) was downgraded by National Bank Financial from an "outperform" rating to a "sector perform" rating in a report released on Monday. They presently have a C$14.00 price objective on the mining company's stock, down from their prior price objective of C$21.50. National Bank Financial's target price would suggest a potential upside of 14.38% from the company's current price.
Several other equities research analysts have also weighed in on the company. Canaccord Genuity boosted their target price on Detour Gold from C$22.50 to C$23.50 in a report on Friday, January 19th. Eight Capital restated a "buy" rating on shares of Detour Gold in a report on Thursday, November 16th. BMO Capital Markets set a C$26.00 target price on Detour Gold and gave the stock an "outperform" rating in a report on Thursday, January 18th. Desjardins restated a "buy" rating on shares of Detour Gold in a report on Monday, December 11th. Finally, Raymond James Financial reduced their target price on Detour Gold from C$21.00 to C$20.00 and set an "outperform" rating for the company in a report on Monday. Two investment analysts have rated the stock with a hold rating and nine have issued a buy rating to the company. Detour Gold currently has an average rating of "Buy" and an average target price of C$19.41.
Shares of Detour Gold (TSE DGC) traded down C$0.09 during trading on Monday, hitting C$12.24. The stock had a trading volume of 754,243 shares, compared to its average volume of 833,972. The firm has a market cap of $2,150.00, a price-to-earnings ratio of 28.37 and a beta of -1.40. Detour Gold has a fifty-two week low of C$11.48 and a fifty-two week high of C$18.88.
TRADEMARK VIOLATION NOTICE: "Detour Gold (DGC) Lowered to Sector Perform at National Bank Financial" was reported by American Banking News and is the sole property of of American Banking News. If you are reading this article on another site, it was illegally stolen and republished in violation of international copyright & trademark law. The correct version of this article can be accessed at https://www.americanbankingnews.com/2018/03/12/detour-gold-dgc-lowered-to-sector-perform-at-national-bank-financial.html.
About Detour Gold
Detour Gold Corporation is a Canada-based intermediate gold producing company. The Company is engaged in the acquisition, exploration, development and operation of mineral property interests. Its primary asset is its Detour Lake mine, which is an open pit operation located in northeastern Ontario, approximately 300 kilometers northeast of Timmins and over 180 kilometers by road northeast of Cochrane.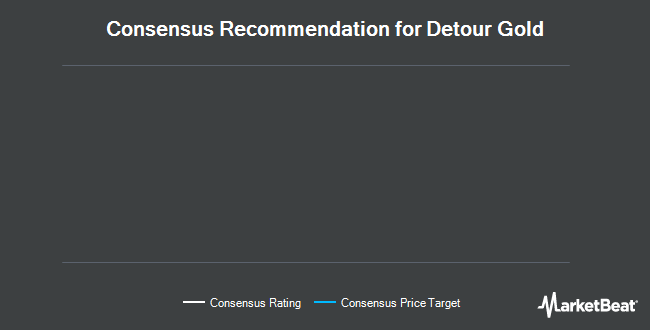 Receive News & Ratings for Detour Gold Daily - Enter your email address below to receive a concise daily summary of the latest news and analysts' ratings for Detour Gold and related companies with MarketBeat.com's FREE daily email newsletter.