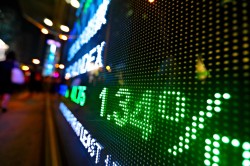 CannTrust (CNSX:TRST) had its target price upped by research analysts at Eight Capital from $7.00 to $13.00 in a research note issued to investors on Monday.
Separately, Canaccord Genuity boosted their price target on CannTrust from $7.25 to $9.50 in a research note on Monday, December 4th.
Shares of CannTrust (TRST) remained flat at $C$9.00 during mid-day trading on Monday. The company has a market capitalization of $761.48 and a P/E ratio of -450.00. CannTrust has a 1 year low of C$1.69 and a 1 year high of C$10.25.
In other news, Director Aubrey Dan acquired 17,100 shares of the stock in a transaction on Friday, January 12th. The stock was acquired at an average cost of C$10.04 per share, for a total transaction of C$171,684.00. Also, insider Financial Corporation Forum sold 250,000 shares of the business's stock in a transaction that occurred on Tuesday, December 12th. The shares were sold at an average price of C$7.96, for a total transaction of C$1,990,000.00. Over the last quarter, insiders sold 424,995 shares of company stock valued at $3,487,957.
COPYRIGHT VIOLATION NOTICE: "Eight Capital Boosts CannTrust (TRST) Price Target to $13.00" was originally published by American Banking News and is the sole property of of American Banking News. If you are accessing this story on another website, it was illegally copied and republished in violation of United States & international trademark & copyright legislation. The correct version of this story can be accessed at https://www.americanbankingnews.com/2018/03/12/eight-capital-boosts-canntrust-trst-price-target-to-13-00.html.
About CannTrust
CannTrust Holdings Inc is a Canada-based company, which produces pharmaceutical-grade medical cannabis for patients. The Company is a federally regulated licensed producer of medical cannabis products. The Company operates a hydroponic facility and an onsite laboratory for testing and research on the medical use of cannabis.
Receive News & Ratings for CannTrust Daily - Enter your email address below to receive a concise daily summary of the latest news and analysts' ratings for CannTrust and related companies with MarketBeat.com's FREE daily email newsletter.