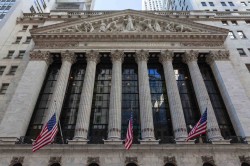 Virginia Natl Bank (OTCMKTS:VABK) General Counsel Donna G. Shewmake sold 1,200 shares of the company's stock in a transaction dated Thursday, March 8th. The shares were sold at an average price of $40.25, for a total transaction of $48,300.00. The sale was disclosed in a document filed with the SEC, which can be accessed through this link.
Virginia Natl Bank (OTCMKTS VABK) traded up $0.10 during trading hours on Monday, reaching $40.85. 40,100 shares of the company traded hands, compared to its average volume of 6,389. Virginia Natl Bank has a 52-week low of $30.05 and a 52-week high of $50.00. The firm has a market capitalization of $98.48, a price-to-earnings ratio of 14.28 and a beta of 0.12.
COPYRIGHT VIOLATION NOTICE: This report was first reported by American Banking News and is the property of of American Banking News. If you are accessing this report on another publication, it was illegally stolen and republished in violation of US & international copyright and trademark legislation. The original version of this report can be accessed at https://www.americanbankingnews.com/2018/03/12/insider-selling-virginia-natl-bank-vabk-general-counsel-sells-1200-shares-of-stock.html.
About Virginia Natl Bank
Virginia National Bank (the Bank) is engaged in commercial and retail banking business. The Bank offers a range of banking and related financial services, including checking accounts, negotiable order of withdrawal (NOW) accounts, money market deposit accounts, certificates of deposit, individual retirement accounts and other depository services.
Receive News & Ratings for Virginia Natl Bank Daily - Enter your email address below to receive a concise daily summary of the latest news and analysts' ratings for Virginia Natl Bank and related companies with MarketBeat.com's FREE daily email newsletter.