International Value Advisers LLC trimmed its position in shares of News Corp (NASDAQ:NWS) by 0.3% in the 4th quarter, according to its most recent disclosure with the SEC. The institutional investor owned 3,408,409 shares of the company's stock after selling 10,128 shares during the quarter. News makes up approximately 1.6% of International Value Advisers LLC's investment portfolio, making the stock its 21st largest position. International Value Advisers LLC owned about 0.59% of News worth $56,580,000 at the end of the most recent quarter.
Several other institutional investors and hedge funds have also recently modified their holdings of NWS. Mint Tower Capital Management B.V. purchased a new stake in News in the 3rd quarter valued at $120,000. ING Groep NV purchased a new stake in News in the 3rd quarter valued at $144,000. Crossmark Global Holdings Inc. purchased a new stake in News in the 3rd quarter valued at $230,000. BB&T Corp grew its holdings in News by 29.4% in the 4th quarter. BB&T Corp now owns 15,924 shares of the company's stock valued at $264,000 after buying an additional 3,619 shares in the last quarter. Finally, Allianz Asset Management GmbH purchased a new stake in News in the 4th quarter valued at $274,000. Hedge funds and other institutional investors own 10.17% of the company's stock.
A number of equities analysts have recently weighed in on NWS shares. BidaskClub upgraded News from a "hold" rating to a "buy" rating in a report on Wednesday, December 6th. TheStreet cut News from a "b-" rating to a "c+" rating in a report on Monday, February 12th.
News Corp (
NWS
) opened at $16.80 on Monday. The firm has a market capitalization of $9,790.00, a price-to-earnings ratio of -21.82 and a beta of 1.87. The company has a current ratio of 1.64, a quick ratio of 1.64 and a debt-to-equity ratio of 0.02. News Corp has a twelve month low of $12.50 and a twelve month high of $17.70.
The firm also recently declared a semiannual dividend, which will be paid on Wednesday, April 18th. Stockholders of record on Wednesday, March 14th will be issued a dividend of $0.10 per share. This represents a dividend yield of 1.25%. The ex-dividend date is Tuesday, March 13th. News's dividend payout ratio is presently -25.97%.
ILLEGAL ACTIVITY NOTICE: This piece was originally reported by American Banking News and is owned by of American Banking News. If you are viewing this piece on another website, it was illegally stolen and republished in violation of United States and international copyright and trademark law. The legal version of this piece can be accessed at https://www.americanbankingnews.com/2018/03/12/international-value-advisers-llc-reduces-position-in-news-corp-nws.html.
News Profile
News Corporation is a diversified media and information services company. The Company operates in five segments: News and Information Services, Cable Network Programming, Digital Real Estate Services, Book Publishing, and Other. The Company's business consists of range of media, including news and information services, sports programming in Australia, digital real estate services, book publishing, and pay-television (TV) distribution in Australia, that are distributed under the brands, including The Wall Street Journal, Dow Jones, Herald Sun, The Sun, The Times, HarperCollins Publishers, FOX SPORTS Australia and realestate.com.au.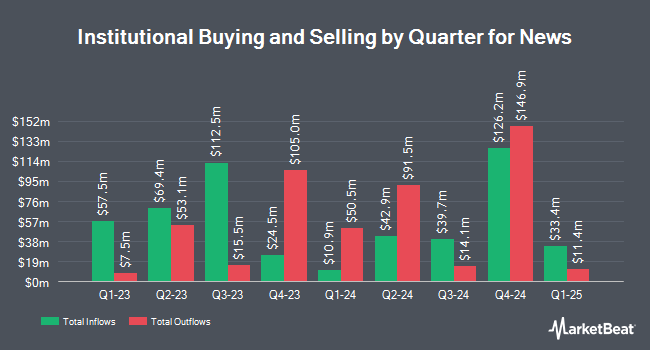 Receive News & Ratings for News Daily - Enter your email address below to receive a concise daily summary of the latest news and analysts' ratings for News and related companies with MarketBeat.com's FREE daily email newsletter.