Kronos Worldwide (NYSE:KRO) announced its earnings results on Monday. The specialty chemicals company reported $0.41 EPS for the quarter, missing the consensus estimate of $0.54 by ($0.13), Briefing.com reports. The company had revenue of $453.30 million for the quarter, compared to analysts' expectations of $421.00 million. Kronos Worldwide had a net margin of 20.52% and a return on equity of 31.38%. The business's quarterly revenue was up 35.8% compared to the same quarter last year. During the same quarter in the previous year, the business posted $0.20 earnings per share.
Kronos Worldwide (KRO) traded up $0.04 during mid-day trading on Monday, reaching $23.92. The company's stock had a trading volume of 663,691 shares, compared to its average volume of 509,872. The company has a quick ratio of 2.86, a current ratio of 4.26 and a debt-to-equity ratio of 0.66. Kronos Worldwide has a 52 week low of $14.67 and a 52 week high of $29.49. The stock has a market cap of $2,767.74, a P/E ratio of 8.36, a PEG ratio of 1.75 and a beta of 2.39.
The firm also recently disclosed a quarterly dividend, which will be paid on Thursday, March 15th. Shareholders of record on Tuesday, March 6th will be issued a dividend of $0.17 per share. The ex-dividend date of this dividend is Monday, March 5th. This is an increase from Kronos Worldwide's previous quarterly dividend of $0.15. This represents a $0.68 annualized dividend and a yield of 2.84%. Kronos Worldwide's payout ratio is currently 23.78%.
Several brokerages recently commented on KRO. Barclays raised their target price on Kronos Worldwide from $17.00 to $24.00 and gave the company an "underweight" rating in a report on Tuesday, November 14th.
ValuEngine
upgraded Kronos Worldwide from a "hold" rating to a "buy" rating in a report on Wednesday, February 28th. Finally,
Zacks Investment Research
upgraded Kronos Worldwide from a "hold" rating to a "buy" rating and set a $26.00 price objective on the stock in a report on Saturday. One investment analyst has rated the stock with a sell rating, two have given a hold rating and three have assigned a buy rating to the company's stock. Kronos Worldwide currently has an average rating of "Hold" and an average target price of $24.67.
COPYRIGHT VIOLATION WARNING: This article was reported by American Banking News and is the sole property of of American Banking News. If you are viewing this article on another domain, it was copied illegally and reposted in violation of international copyright and trademark law. The correct version of this article can be accessed at https://www.americanbankingnews.com/2018/03/12/kronos-worldwide-kro-releases-quarterly-earnings-results-misses-expectations-by-0-13-eps.html.
Kronos Worldwide Company Profile
Kronos Worldwide, Inc (Kronos) is a producer and marketer of titanium dioxide (TiO2) pigments, a base industrial product that is used in a range of applications. The Company, along with its distributors and agents, sells and provides technical services for its products with sales in Europe and North America.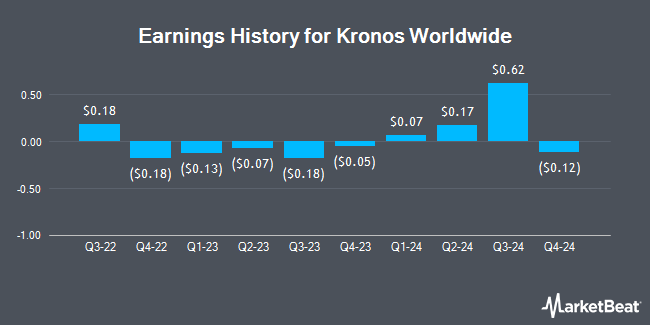 Receive News & Ratings for Kronos Worldwide Daily - Enter your email address below to receive a concise daily summary of the latest news and analysts' ratings for Kronos Worldwide and related companies with MarketBeat.com's FREE daily email newsletter.