National CineMedia (NASDAQ:NCMI) released its quarterly earnings data on Monday. The business services provider reported $0.27 EPS for the quarter, beating analysts' consensus estimates of $0.21 by $0.06, Bloomberg Earnings reports. National CineMedia had a negative return on equity of 21.45% and a net margin of 4.81%. The firm had revenue of $140.70 million for the quarter, compared to analysts' expectations of $144.48 million. During the same period in the prior year, the firm posted $0.24 earnings per share. The firm's quarterly revenue was down 1.3% on a year-over-year basis.
National CineMedia (NCMI) traded down $0.12 on Monday, reaching $6.81. The company had a trading volume of 1,457,504 shares, compared to its average volume of 641,265. National CineMedia has a 12-month low of $5.12 and a 12-month high of $13.33. The firm has a market capitalization of $528.31, a PE ratio of 20.64, a PEG ratio of 2.13 and a beta of 0.36. The company has a quick ratio of 1.76, a current ratio of 1.76 and a debt-to-equity ratio of -14.71.
In other National CineMedia news, major shareholder General L.P. Standard acquired 210,320 shares of the firm's stock in a transaction that occurred on Monday, December 18th. The shares were purchased at an average cost of $6.97 per share, for a total transaction of $1,465,930.40. The purchase was disclosed in a filing with the Securities & Exchange Commission, which is accessible through this hyperlink. Insiders purchased 438,481 shares of company stock worth $3,019,525 over the last quarter. 5.40% of the stock is currently owned by insiders.
A number of research firms recently commented on NCMI. BidaskClub cut National CineMedia from a "buy" rating to a "hold" rating in a report on Wednesday, January 10th.
Zacks Investment Research
cut National CineMedia from a "hold" rating to a "sell" rating in a report on Friday.
ValuEngine
cut National CineMedia from a "hold" rating to a "sell" rating in a report on Tuesday, February 13th. Finally, B. Riley cut National CineMedia to a "hold" rating and set a $8.75 price objective on the stock. in a report on Monday, January 29th. Three analysts have rated the stock with a sell rating, five have assigned a hold rating and one has assigned a buy rating to the company's stock. The company currently has an average rating of "Hold" and an average target price of $7.85.
WARNING: "National CineMedia (NCMI) Issues Earnings Results, Beats Estimates By $0.06 EPS" was posted by American Banking News and is the sole property of of American Banking News. If you are accessing this piece on another domain, it was illegally copied and reposted in violation of U.S. & international copyright legislation. The legal version of this piece can be viewed at https://www.americanbankingnews.com/2018/03/12/national-cinemedia-ncmi-issues-earnings-results-beats-estimates-by-0-06-eps.html.
About National CineMedia
National CineMedia, Inc (NCM, Inc) is a holding company that manages its consolidated subsidiary National CineMedia, LLC (NCM LLC). The Company operates digital in-theater network in North America, allowing NCM LLC to sell advertising and certain third-party theater circuits under long-term network affiliate agreements.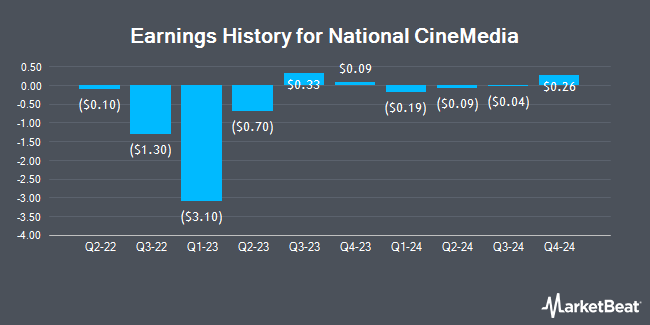 Receive News & Ratings for National CineMedia Daily - Enter your email address below to receive a concise daily summary of the latest news and analysts' ratings for National CineMedia and related companies with MarketBeat.com's FREE daily email newsletter.