Old Mutual plc (LON:OML) has been given an average recommendation of "Hold" by the six analysts that are presently covering the firm, Marketbeat.com reports. One investment analyst has rated the stock with a sell rating, two have assigned a hold rating and three have given a buy rating to the company. The average twelve-month target price among analysts that have issued ratings on the stock in the last year is GBX 196 ($2.71).
OML has been the subject of several recent analyst reports. Deutsche Bank reaffirmed a "buy" rating and issued a GBX 245 ($3.38) price target on shares of Old Mutual in a research report on Friday, November 17th. Barclays lifted their price target on Old Mutual from GBX 188 ($2.60) to GBX 203 ($2.80) and gave the stock an "equal weight" rating in a research report on Monday, December 11th. Shore Capital reaffirmed a "buy" rating on shares of Old Mutual in a research report on Tuesday, December 19th. Finally, Citigroup reaffirmed a "buy" rating on shares of Old Mutual in a research report on Monday.
Shares of Old Mutual (LON OML) traded up GBX 0.60 ($0.01) during mid-day trading on Monday, hitting GBX 257.10 ($3.55). 5,250,000 shares of the stock were exchanged, compared to its average volume of 12,070,000. Old Mutual has a 1 year low of GBX 184.20 ($2.54) and a 1 year high of GBX 259.60 ($3.59). The company has a market cap of $12,680.00 and a PE ratio of 1,714.00.
COPYRIGHT VIOLATION WARNING: This report was originally published by American Banking News and is the property of of American Banking News. If you are viewing this report on another site, it was copied illegally and reposted in violation of United States and international trademark & copyright law. The original version of this report can be viewed at https://www.americanbankingnews.com/2018/03/12/old-mutual-plc-oml-given-average-recommendation-of-hold-by-analysts.html.
About Old Mutual
Old Mutual plc is a United Kingdom-based holding company. The Company's business activities include life assurance, banking, and property and casualty The Company's segments include Emerging Markets, Nedbank, and Old Mutual Wealth. The Other segment includes central activities. The Emerging Markets segment is engaged in providing life assurance, property and casualty, asset management and banking services.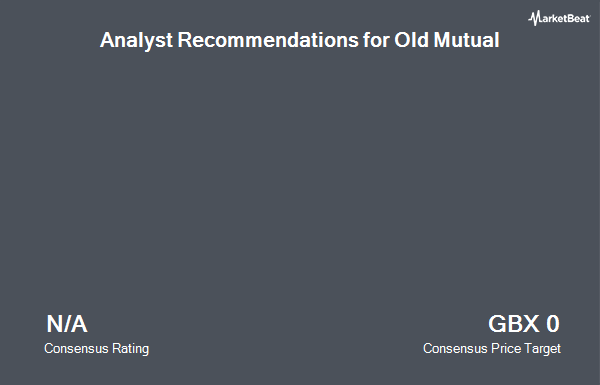 Receive News & Ratings for Old Mutual Daily - Enter your email address below to receive a concise daily summary of the latest news and analysts' ratings for Old Mutual and related companies with MarketBeat.com's FREE daily email newsletter.