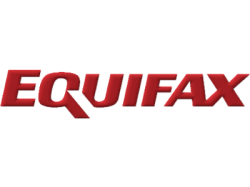 Crestline Management LP bought a new stake in Equifax Inc. (NYSE:EFX) during the 4th quarter, according to the company in its most recent filing with the Securities & Exchange Commission. The fund bought 28,420 shares of the credit services provider's stock, valued at approximately $3,351,000. Equifax comprises about 0.3% of Crestline Management LP's investment portfolio, making the stock its 24th largest holding.
Other institutional investors and hedge funds also recently bought and sold shares of the company. Benjamin F. Edwards & Company Inc. purchased a new position in Equifax in the fourth quarter valued at about $101,000. Valeo Financial Advisors LLC purchased a new stake in shares of Equifax during the third quarter worth about $130,000. Truewealth LLC purchased a new stake in shares of Equifax during the fourth quarter worth about $164,000. Pinnacle Financial Partners Inc. purchased a new stake in shares of Equifax during the fourth quarter worth about $201,000. Finally, Deroy & Devereaux Private Investment Counsel Inc. purchased a new stake in shares of Equifax during the fourth quarter worth about $203,000. Institutional investors own 93.35% of the company's stock.
Equifax Inc. (NYSE:EFX) traded up $0.61 during trading on Wednesday, hitting $124.35. The company had a trading volume of 21,840 shares, compared to its average volume of 1,261,911. The company has a debt-to-equity ratio of 0.54, a current ratio of 0.60 and a quick ratio of 0.60. Equifax Inc. has a 12-month low of $89.59 and a 12-month high of $147.02. The firm has a market capitalization of $14,999.87, a P/E ratio of 25.62, a price-to-earnings-growth ratio of 2.11 and a beta of 0.99.
Equifax (NYSE:EFX) last released its earnings results on Thursday, March 1st. The credit services provider reported $1.39 EPS for the quarter, topping the Zacks' consensus estimate of $1.35 by $0.04. Equifax had a return on equity of 23.31% and a net margin of 17.47%. The firm had revenue of $838.50 million during the quarter, compared to the consensus estimate of $825.70 million. During the same quarter in the previous year, the company posted $1.42 earnings per share. The company's revenue was up 4.7% compared to the same quarter last year. analysts expect that Equifax Inc. will post 5.92 EPS for the current fiscal year.
The company also recently announced a quarterly dividend, which will be paid on Friday, March 30th. Investors of record on Monday, March 12th will be issued a dividend of $0.39 per share. This represents a $1.56 dividend on an annualized basis and a dividend yield of 1.25%. The ex-dividend date is Friday, March 9th. Equifax's dividend payout ratio (DPR) is 32.30%.
A number of equities research analysts have recently weighed in on EFX shares. Zacks Investment Research upgraded Equifax from a "strong sell" rating to a "hold" rating in a research note on Tuesday, November 14th. Barclays lowered Equifax from an "overweight" rating to an "equal weight" rating and boosted their price target for the stock from $115.00 to $128.00 in a research note on Thursday, December 14th. Robert W. Baird restated a "buy" rating and set a $137.00 price target on shares of Equifax in a research note on Tuesday, January 9th. Royal Bank of Canada boosted their price target on Equifax to $126.00 and gave the stock a "sector perform" rating in a research note on Friday, January 19th. Finally, Morgan Stanley boosted their price target on Equifax from $112.00 to $119.00 and gave the stock an "equal weight" rating in a research note on Wednesday, January 31st. Nine research analysts have rated the stock with a hold rating and nine have given a buy rating to the company's stock. The stock has a consensus rating of "Buy" and an average target price of $130.07.
WARNING: "28,420 Shares in Equifax Inc. (EFX) Acquired by Crestline Management LP" was first posted by American Banking News and is the property of of American Banking News. If you are accessing this news story on another site, it was stolen and republished in violation of United States and international copyright and trademark legislation. The legal version of this news story can be read at https://www.americanbankingnews.com/2018/03/14/28420-shares-in-equifax-inc-efx-acquired-by-crestline-management-lp.html.
About Equifax
Equifax Inc is a global provider of information solutions and human resources business process outsourcing services for businesses, governments and consumers. The Company operates in four segments: U.S. Information Solutions (USIS), International, Workforce Solutions and Global Consumer Solutions. Its products and services are based on databases of consumer and business information derived from various sources, including credit, financial assets, telecommunications and utility payments, employment, income, demographic and marketing data.
Want to see what other hedge funds are holding EFX? Visit HoldingsChannel.com to get the latest 13F filings and insider trades for Equifax Inc. (NYSE:EFX).
Receive News & Ratings for Equifax Daily - Enter your email address below to receive a concise daily summary of the latest news and analysts' ratings for Equifax and related companies with MarketBeat.com's FREE daily email newsletter.