Greenhouse Funds LLLP increased its holdings in Clarus Corp (NASDAQ:CLAR) by 12.3% in the fourth quarter, according to the company in its most recent Form 13F filing with the Securities & Exchange Commission. The firm owned 1,626,720 shares of the company's stock after purchasing an additional 177,675 shares during the period. Clarus accounts for 3.6% of Greenhouse Funds LLLP's investment portfolio, making the stock its 9th biggest position. Greenhouse Funds LLLP owned about 5.42% of Clarus worth $12,770,000 as of its most recent SEC filing.
Other large investors have also made changes to their positions in the company. Ameriprise Financial Inc. purchased a new stake in shares of Clarus in the second quarter valued at $146,000. Teachers Advisors LLC purchased a new stake in shares of Clarus in the second quarter valued at $240,000. California State Teachers Retirement System purchased a new stake in Clarus during the second quarter valued at about $242,000. Mesirow Financial Investment Management Inc. purchased a new stake in Clarus during the fourth quarter valued at about $247,000. Finally, Wells Fargo & Company MN grew its position in Clarus by 85.4% during the fourth quarter. Wells Fargo & Company MN now owns 32,995 shares of the company's stock valued at $259,000 after acquiring an additional 15,199 shares during the period. 52.98% of the stock is owned by institutional investors and hedge funds.
Shares of Clarus Corp (CLAR) opened at $7.10 on Wednesday. Clarus Corp has a 1 year low of $5.10 and a 1 year high of $8.00. The company has a debt-to-equity ratio of 0.18, a quick ratio of 1.68 and a current ratio of 4.53. The stock has a market capitalization of $207.29, a PE ratio of 57.50, a price-to-earnings-growth ratio of 0.87 and a beta of 1.48.
Clarus (NASDAQ:CLAR) last posted its quarterly earnings results on Monday, March 12th. The company reported $0.15 earnings per share (EPS) for the quarter, missing the Zacks' consensus estimate of $0.17 by ($0.02). Clarus had a negative net margin of 0.39% and a positive return on equity of 2.24%. The firm had revenue of $52.70 million for the quarter, compared to analysts' expectations of $49.33 million. Clarus's revenue was up 27.3% compared to the same quarter last year. equities research analysts forecast that Clarus Corp will post 0.53 EPS for the current year.
A number of equities research analysts have issued reports on CLAR shares. Stifel Nicolaus set a $10.00 price target on Clarus and gave the company a "buy" rating in a research report on Saturday, December 16th. Zacks Investment Research downgraded Clarus from a "strong-buy" rating to a "hold" rating in a research report on Tuesday, January 9th.
COPYRIGHT VIOLATION NOTICE: "Clarus Corp (CLAR) Shares Bought by Greenhouse Funds LLLP" was posted by American Banking News and is the property of of American Banking News. If you are viewing this news story on another publication, it was copied illegally and reposted in violation of US & international copyright & trademark legislation. The original version of this news story can be accessed at https://www.americanbankingnews.com/2018/03/14/clarus-corp-clar-shares-bought-by-greenhouse-funds-lllp.html.
Clarus Profile
Clarus Corporation, formerly Black Diamond, Inc, through its ownership of Black Diamond Equipment, Ltd., is engaged in designing, manufacturing and marketing of active outdoor performance equipment and apparel for climbing, mountaineering, backpacking, skiing and a range of other year-round outdoor recreation activities.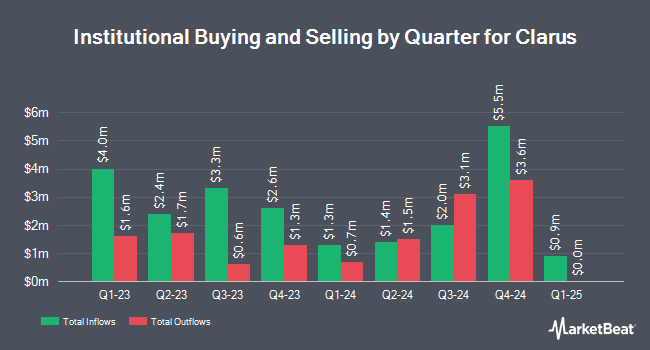 Receive News & Ratings for Clarus Daily - Enter your email address below to receive a concise daily summary of the latest news and analysts' ratings for Clarus and related companies with MarketBeat.com's FREE daily email newsletter.