Emis Group Plc (LON:EMIS) insider Peter Southby purchased 21 shares of the company's stock in a transaction on Tuesday, March 13th. The stock was purchased at an average price of GBX 725 ($10.02) per share, for a total transaction of £152.25 ($210.35).
Peter Southby also recently made the following trade(s):
On Tuesday, February 13th, Peter Southby acquired 20 shares of Emis Group stock. The shares were bought at an average price of GBX 725 ($10.02) per share, for a total transaction of £145 ($200.33).
On Monday, January 15th, Peter Southby purchased 16 shares of Emis Group stock. The stock was acquired at an average price of GBX 980 ($13.54) per share, for a total transaction of £156.80 ($216.63).
Emis Group Plc (EMIS) traded up GBX 82 ($1.13) during trading on Wednesday, reaching GBX 802 ($11.08). 215,250 shares of the company's stock traded hands, compared to its average volume of 177,413. The firm has a market capitalization of $506.49 and a price-to-earnings ratio of 2,765.52. Emis Group Plc has a 12-month low of GBX 9.42 ($0.13) and a 12-month high of GBX 1,034 ($14.29).
Emis Group (LON:EMIS) last posted its quarterly earnings data on Wednesday, March 14th. The company reported GBX 47.20 ($0.65) EPS for the quarter, topping analysts' consensus estimates of GBX 46.30 ($0.64) by GBX 0.90 ($0.01). Emis Group had a net margin of 10.88% and a return on equity of 14.91%. The firm had revenue of £160.35 million during the quarter.
Separately, Numis Securities lowered shares of Emis Group to a "hold" rating and decreased their price target for the stock from GBX 1,150 ($15.89) to GBX 1,000 ($13.82) in a research report on Thursday, January 18th.
WARNING: This piece was originally reported by American Banking News and is owned by of American Banking News. If you are reading this piece on another domain, it was illegally copied and reposted in violation of U.S. and international copyright & trademark law. The correct version of this piece can be viewed at https://www.americanbankingnews.com/2018/03/14/emis-group-plc-emis-insider-peter-southby-purchases-21-shares.html.
About Emis Group
EMIS Group plc provides healthcare software, information technology and related services in the United Kingdom. The Company operates through three segments: Primary & Community Care; Community Pharmacy, and Secondary & Specialist Care. The Company serves various healthcare markets under the EMIS Health brand.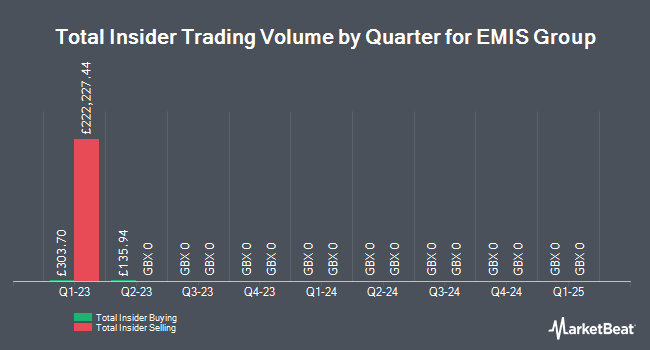 Receive News & Ratings for Emis Group Daily - Enter your email address below to receive a concise daily summary of the latest news and analysts' ratings for Emis Group and related companies with MarketBeat.com's FREE daily email newsletter.