Gocompare.Com Group PLC (LON:GOCO) has been given an average rating of "Hold" by the six analysts that are currently covering the firm, Marketbeat reports. One equities research analyst has rated the stock with a sell recommendation, two have assigned a hold recommendation and three have given a buy recommendation to the company. The average 1 year price target among analysts that have issued a report on the stock in the last year is GBX 129.25 ($1.79).
GOCO has been the subject of several research reports. Peel Hunt reaffirmed a "buy" rating and set a GBX 120 ($1.66) price target on shares of Gocompare.Com Group in a report on Monday, December 4th. Liberum Capital reaffirmed a "hold" rating and set a GBX 104 ($1.44) price target on shares of Gocompare.Com Group in a report on Friday, November 24th. Berenberg Bank reaffirmed a "buy" rating and set a GBX 145 ($2.00) price target on shares of Gocompare.Com Group in a report on Wednesday, February 28th. Finally, Canaccord Genuity raised their price target on Gocompare.Com Group from GBX 106 ($1.46) to GBX 112 ($1.55) and gave the company a "hold" rating in a report on Wednesday, December 20th.
In other Gocompare.Com Group news, insider Ashley Steel purchased 47,833 shares of the business's stock in a transaction on Tuesday, December 19th. The stock was acquired at an average price of GBX 104 ($1.44) per share, with a total value of £49,746.32 ($68,729.37). Insiders have acquired a total of 73,099 shares of company stock valued at $5,009,490 in the last ninety days.
Shares of Gocompare.Com Group (
LON:GOCO
) opened at GBX 112.20 ($1.55) on Wednesday. The company has a market capitalization of $468.55 and a P/E ratio of 1,870.00. Gocompare.Com Group has a twelve month low of GBX 84.62 ($1.17) and a twelve month high of GBX 120 ($1.66).
The firm also recently declared a dividend, which will be paid on Friday, May 25th. Shareholders of record on Thursday, May 3rd will be issued a dividend of GBX 0.70 ($0.01) per share. This represents a yield of 0.62%. The ex-dividend date is Thursday, May 3rd.
TRADEMARK VIOLATION NOTICE: This piece was first published by American Banking News and is the sole property of of American Banking News. If you are reading this piece on another domain, it was illegally copied and reposted in violation of US and international copyright and trademark laws. The legal version of this piece can be accessed at https://www.americanbankingnews.com/2018/03/14/gocompare-com-group-plc-goco-receives-average-rating-of-hold-from-brokerages.html.
Gocompare.Com Group Company Profile
Gocompare.com Group plc is a holding company. The Company's principal activity is providing an insurance price and product comparison Website. Its segments include Insurance and Strategic Initiatives. It operates a United Kingdom-based price and product comparison Website, Gocompare.com. Gocompare.com offers an online service that enables consumers to compare the prices and features of products.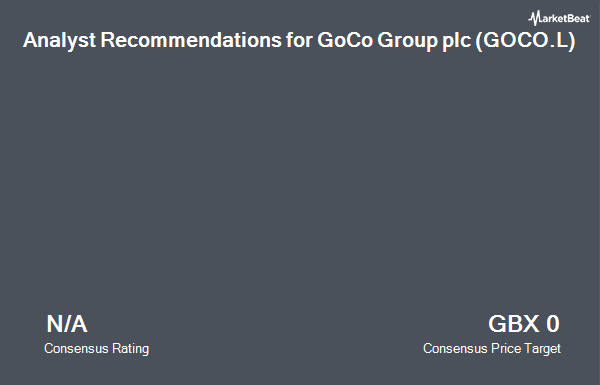 Receive News & Ratings for Gocompare.Com Group Daily - Enter your email address below to receive a concise daily summary of the latest news and analysts' ratings for Gocompare.Com Group and related companies with MarketBeat.com's FREE daily email newsletter.