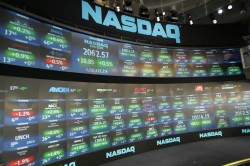 LexinFintech (NASDAQ:LX) will be issuing its quarterly earnings data before the market opens on Tuesday, March 20th.
LexinFintech (NASDAQ:LX) traded down $0.66 during trading on Wednesday, reaching $16.98. The company's stock had a trading volume of 307,152 shares, compared to its average volume of 456,386. LexinFintech has a 1 year low of $10.15 and a 1 year high of $20.00. The company has a current ratio of 0.90, a quick ratio of 0.89 and a debt-to-equity ratio of -0.29.
Several research firms have recently weighed in on LX. Goldman Sachs Group began coverage on LexinFintech in a report on Sunday, January 14th. They set a "buy" rating and a $21.80 price target on the stock. Deutsche Bank began coverage on LexinFintech in a report on Tuesday, January 16th. They set a "buy" rating and a $21.00 price target on the stock.
TRADEMARK VIOLATION WARNING: This report was originally posted by American Banking News and is the sole property of of American Banking News. If you are reading this report on another domain, it was illegally stolen and republished in violation of U.S. and international trademark & copyright legislation. The original version of this report can be accessed at https://www.americanbankingnews.com/2018/03/14/lexinfintech-lx-set-to-announce-quarterly-earnings-on-tuesday.html.
LexinFintech Company Profile
LexinFintech Holdings Ltd. is a holding company. The Company is primarily engaged in providing online direct sales services and online consumer finance services. The Company's online consumer finance platform, Fenqile, offers customers personal installment loans, installment purchase loans and other loan products.
Receive News & Ratings for LexinFintech Daily - Enter your email address below to receive a concise daily summary of the latest news and analysts' ratings for LexinFintech and related companies with MarketBeat.com's FREE daily email newsletter.