Novavax (NASDAQ:NVAX) issued its quarterly earnings results on Wednesday. The biopharmaceutical company reported ($0.16) earnings per share for the quarter, missing the consensus estimate of ($0.15) by ($0.01), RTT News reports. The firm had revenue of $10.40 million for the quarter, compared to the consensus estimate of $7.98 million. The firm's quarterly revenue was up 92.6% on a year-over-year basis. During the same period in the prior year, the company earned ($0.21) earnings per share.
Novavax (NASDAQ NVAX) traded down $0.08 during midday trading on Thursday, hitting $2.01. The stock had a trading volume of 5,120,685 shares, compared to its average volume of 12,401,255. The firm has a market cap of $633.47, a P/E ratio of -2.91 and a beta of 2.49. The company has a current ratio of 3.31, a quick ratio of 3.31 and a debt-to-equity ratio of -4.28. Novavax has a 12 month low of $0.73 and a 12 month high of $2.75.
Several equities analysts have recently weighed in on NVAX shares. BidaskClub raised shares of Novavax from a "hold" rating to a "buy" rating in a research note on Thursday. B. Riley set a $10.00 price target on shares of Novavax and gave the stock a "buy" rating in a research note on Thursday, March 1st. Citigroup cut shares of Novavax from a "buy" rating to a "neutral" rating and set a $1.00 price target for the company. in a research note on Tuesday, December 19th. Chardan Capital reaffirmed a "hold" rating on shares of Novavax in a research note on Thursday, March 1st. Finally, S&P Equity Research decreased their price target on shares of Novavax from $1.81 to $1.35 in a research note on Wednesday, January 10th. One equities research analyst has rated the stock with a sell rating, five have issued a hold rating and four have given a buy rating to the company's stock. The company currently has an average rating of "Hold" and a consensus price target of $3.11.
TRADEMARK VIOLATION NOTICE: "Novavax (NVAX) Announces Earnings Results, Misses Expectations By $0.01 EPS" was originally published by American Banking News and is the sole property of of American Banking News. If you are accessing this article on another publication, it was stolen and reposted in violation of US and international trademark & copyright laws. The correct version of this article can be viewed at https://www.americanbankingnews.com/2018/03/14/novavax-nvax-releases-quarterly-earnings-results.html.
Novavax Company Profile
Novavax, Inc is a clinical-stage vaccine company focused on the discovery, development and commercialization of recombinant nanoparticle vaccines and adjuvants. The Company operates through developing recombinant vaccines segment. The Company, through its recombinant nanoparticle vaccine technology, produces vaccine candidates to respond to both known and newly emerging diseases.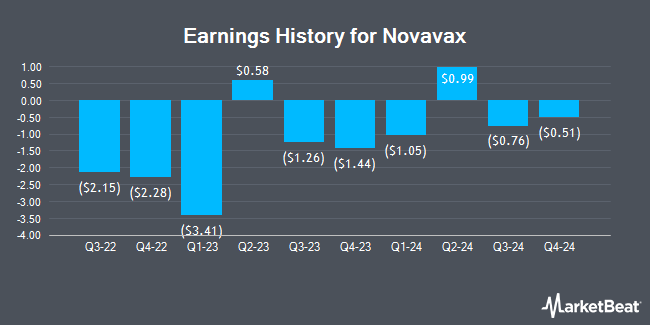 Receive News & Ratings for Novavax Daily - Enter your email address below to receive a concise daily summary of the latest news and analysts' ratings for Novavax and related companies with MarketBeat.com's FREE daily email newsletter.