Signet Jewelers (NYSE:SIG) issued an update on its FY19 earnings guidance on Wednesday morning. The company provided earnings per share (EPS) guidance of $3.75-4.25 for the period, compared to the Thomson Reuters consensus estimate of $6.09. The company issued revenue guidance of $5.9-6.1 billion, compared to the consensus revenue estimate of $6.14 billion.
Shares of Signet Jewelers (SIG) opened at $42.60 on Wednesday. The company has a market cap of $2,903.56, a PE ratio of 7.88, a PEG ratio of 1.00 and a beta of 0.73. The company has a debt-to-equity ratio of 0.33, a quick ratio of 0.76 and a current ratio of 2.63. Signet Jewelers has a one year low of $42.60 and a one year high of $77.94.
The business also recently announced a quarterly dividend, which was paid on Friday, March 2nd. Stockholders of record on Friday, February 2nd were paid a dividend of $0.31 per share. The ex-dividend date was Thursday, February 1st. This represents a $1.24 dividend on an annualized basis and a dividend yield of 2.91%. Signet Jewelers's dividend payout ratio is currently 20.39%.
A number of analysts have recently commented on SIG shares. Royal Bank of Canada cut their target price on shares of Signet Jewelers from $66.00 to $60.00 and set an outperform rating for the company in a research note on Wednesday, November 22nd. Bank of America set a $66.00 target price on shares of Signet Jewelers and gave the stock a buy rating in a research note on Saturday, November 25th.
Zacks Investment Research
cut shares of Signet Jewelers from a hold rating to a strong sell rating in a research note on Monday, November 27th. Buckingham Research boosted their target price on shares of Signet Jewelers from $55.00 to $72.00 and gave the stock a neutral rating in a research note on Tuesday, November 14th. Finally, Needham & Company LLC reissued a buy rating and set a $60.00 target price on shares of Signet Jewelers in a research note on Wednesday, November 22nd. They noted that the move was a valuation call. Twelve analysts have rated the stock with a hold rating and six have assigned a buy rating to the company's stock. Signet Jewelers has a consensus rating of Hold and an average price target of $62.78.
In other Signet Jewelers news, insider Oded Edelman acquired 90,398 shares of the company's stock in a transaction that occurred on Friday, January 12th. The stock was bought at an average price of $55.31 per share, with a total value of $4,999,913.38. Following the purchase, the insider now owns 33,962 shares in the company, valued at $1,878,438.22. The transaction was disclosed in a legal filing with the Securities & Exchange Commission, which can be accessed through this link. 0.52% of the stock is currently owned by corporate insiders.
COPYRIGHT VIOLATION NOTICE: "Signet Jewelers (SIG) Releases FY19 Earnings Guidance" was first reported by American Banking News and is the sole property of of American Banking News. If you are viewing this report on another site, it was illegally copied and reposted in violation of United States and international copyright and trademark law. The legal version of this report can be read at https://www.americanbankingnews.com/2018/03/14/signet-jewelers-sig-releases-fy19-earnings-guidance.html.
About Signet Jewelers
Signet Jewelers Limited is a retailer of diamond jewelry. The Company's segments include the Sterling Jewelers division; the Zale division, which consists of the Zale Jewelry and Piercing Pagoda segments; the UK Jewelry division, and Other. The Sterling Jewelers division's stores operate in the United States principally as Kay Jewelers (Kay), Kay Jewelers Outlet, Jared The Galleria Of Jewelry (Jared) and Jared Vault.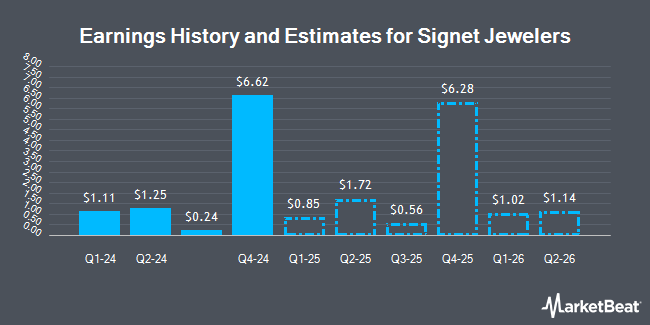 Receive News & Ratings for Signet Jewelers Daily - Enter your email address below to receive a concise daily summary of the latest news and analysts' ratings for Signet Jewelers and related companies with MarketBeat.com's FREE daily email newsletter.