StoneCastle Financial Corp (NASDAQ:BANX) announced a quarterly dividend on Friday, March 9th, NASDAQ reports. Stockholders of record on Tuesday, March 20th will be given a dividend of 0.38 per share by the investment management company on Tuesday, March 27th. This represents a $1.52 annualized dividend and a dividend yield of 6.80%. The ex-dividend date is Monday, March 19th.
StoneCastle Financial (BANX) traded down $0.08 on Wednesday, hitting $22.36. The stock had a trading volume of 4,171 shares, compared to its average volume of 28,240. StoneCastle Financial has a 12 month low of $19.01 and a 12 month high of $22.74. The company has a market capitalization of $146.02, a PE ratio of 14.04 and a beta of 0.22.
StoneCastle Financial (NASDAQ:BANX) last posted its quarterly earnings data on Thursday, March 1st. The investment management company reported $0.41 earnings per share for the quarter, beating the consensus estimate of $0.40 by $0.01. The business had revenue of $4.24 million during the quarter, compared to the consensus estimate of $4.36 million. analysts predict that StoneCastle Financial will post 1.67 EPS for the current fiscal year.
BANX has been the subject of a number of recent research reports. National Securities upped their target price on StoneCastle Financial from $23.00 to $24.00 and gave the company a "buy" rating in a research note on Monday, March 5th. Oppenheimer set a $22.00 target price on StoneCastle Financial and gave the company a "buy" rating in a research note on Friday, March 2nd. Finally,
Zacks Investment Research
upgraded StoneCastle Financial from a "sell" rating to a "hold" rating in a research note on Monday, January 8th. One equities research analyst has rated the stock with a sell rating and four have given a buy rating to the stock. The company currently has an average rating of "Buy" and a consensus price target of $23.00.
A hedge fund recently raised its stake in StoneCastle Financial stock. Northern Trust Corp boosted its position in StoneCastle Financial Corp (NASDAQ:BANX) by 10.7% during the 2nd quarter, according to the company in its most recent disclosure with the Securities & Exchange Commission. The fund owned 12,870 shares of the investment management company's stock after acquiring an additional 1,240 shares during the period. Northern Trust Corp's holdings in StoneCastle Financial were worth $262,000 at the end of the most recent quarter. 30.49% of the stock is owned by institutional investors and hedge funds.
WARNING: This report was first posted by American Banking News and is owned by of American Banking News. If you are reading this report on another website, it was copied illegally and reposted in violation of US & international copyright and trademark law. The original version of this report can be accessed at https://www.americanbankingnews.com/2018/03/14/stonecastle-financial-corp-banx-declares-quarterly-dividend-of-0-38.html.
StoneCastle Financial Company Profile
StoneCastle Financial Corp. is a non-diversified, closed-end management investment company. The Company's primary investment objective is to provide stockholders with current income, and to a lesser extent capital appreciation. The Company generally invests in the senior debt, subordinated debt, preferred shares and common stock of community banks.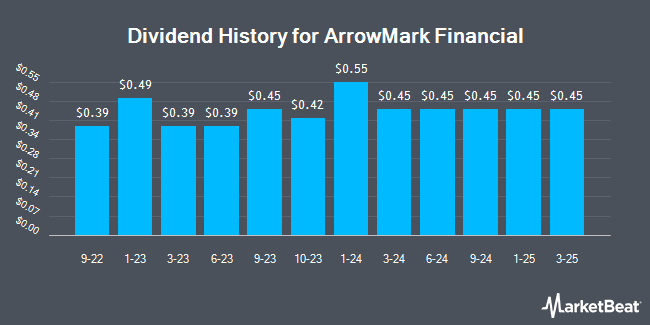 Receive News & Ratings for StoneCastle Financial Daily - Enter your email address below to receive a concise daily summary of the latest news and analysts' ratings for StoneCastle Financial and related companies with MarketBeat.com's FREE daily email newsletter.