Quantitative Investment Management LLC lessened its stake in Textron Inc. (NYSE:TXT) by 65.1% during the 4th quarter, according to its most recent disclosure with the SEC. The institutional investor owned 87,300 shares of the aerospace company's stock after selling 163,000 shares during the quarter. Quantitative Investment Management LLC's holdings in Textron were worth $4,940,000 at the end of the most recent reporting period.
Several other hedge funds also recently added to or reduced their stakes in TXT. Steward Partners Investment Advisory LLC purchased a new position in shares of Textron in the third quarter worth $110,000. Invictus RG purchased a new position in shares of Textron in the third quarter worth $115,000. Cerebellum GP LLC purchased a new position in shares of Textron in the fourth quarter worth $133,000. Commerzbank Aktiengesellschaft FI purchased a new position in shares of Textron in the third quarter worth $201,000. Finally, BB&T Securities LLC purchased a new position in shares of Textron in the third quarter worth $203,000. 83.27% of the stock is currently owned by hedge funds and other institutional investors.
TXT has been the topic of several research analyst reports. Cowen reissued a "buy" rating and issued a $60.00 target price on shares of Textron in a report on Tuesday, November 14th. Zacks Investment Research downgraded shares of Textron from a "hold" rating to a "sell" rating in a report on Friday, November 17th. ValuEngine raised shares of Textron from a "hold" rating to a "buy" rating in a report on Sunday, December 31st. Stephens set a $65.00 price target on shares of Textron and gave the company a "hold" rating in a research note on Thursday, January 11th. Finally, Wells Fargo & Co reaffirmed an "outperform" rating and set a $67.00 price target (up previously from $59.00) on shares of Textron in a research note on Tuesday, January 16th. Two equities research analysts have rated the stock with a sell rating, three have assigned a hold rating and seven have issued a buy rating to the company's stock. The stock presently has a consensus rating of "Hold" and a consensus target price of $60.50.
Shares of Textron Inc. (
TXT
) opened at $58.90 on Wednesday. The stock has a market cap of $15,444.55, a price-to-earnings ratio of 24.08, a P/E/G ratio of 1.85 and a beta of 1.37. The company has a debt-to-equity ratio of 0.69, a quick ratio of 1.06 and a current ratio of 2.19. Textron Inc. has a 12 month low of $45.00 and a 12 month high of $62.19.
Textron (NYSE:TXT) last released its quarterly earnings results on Wednesday, January 31st. The aerospace company reported $0.74 earnings per share (EPS) for the quarter, missing the Zacks' consensus estimate of $0.77 by ($0.03). The business had revenue of $4.02 billion for the quarter, compared to analysts' expectations of $4.06 billion. Textron had a net margin of 2.16% and a return on equity of 11.58%. Textron's revenue for the quarter was up 5.0% compared to the same quarter last year. During the same period in the previous year, the company earned $0.80 EPS. equities analysts forecast that Textron Inc. will post 3.07 EPS for the current year.
The firm also recently declared a quarterly dividend, which will be paid on Sunday, April 1st. Investors of record on Friday, March 9th will be paid a dividend of $0.02 per share. This represents a $0.08 dividend on an annualized basis and a yield of 0.14%. The ex-dividend date of this dividend is Thursday, March 8th. Textron's payout ratio is 7.02%.
ILLEGAL ACTIVITY NOTICE: "Textron Inc. (TXT) Shares Sold by Quantitative Investment Management LLC" was first reported by American Banking News and is the sole property of of American Banking News. If you are viewing this piece on another site, it was copied illegally and reposted in violation of U.S. & international trademark and copyright laws. The legal version of this piece can be viewed at https://www.americanbankingnews.com/2018/03/14/textron-inc-txt-shares-sold-by-quantitative-investment-management-llc.html.
Textron Profile
Textron Inc is a multi-industry company engaged in aircraft, defense, industrial and finance businesses to provide customers with products and services across the world. The Company operates through five segments: Textron Aviation, Bell, Textron Systems, Industrial and Finance. The Textron Aviation segment is engaged in general aviation.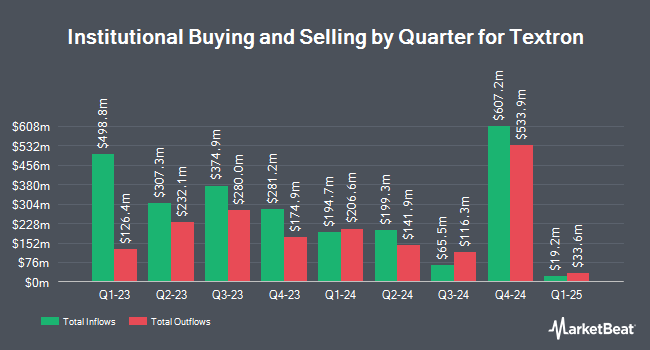 Receive News & Ratings for Textron Daily - Enter your email address below to receive a concise daily summary of the latest news and analysts' ratings for Textron and related companies with MarketBeat.com's FREE daily email newsletter.