OppenheimerFunds Inc. lessened its position in Trueblue Inc (NYSE:TBI) by 27.3% during the 4th quarter, according to its most recent filing with the Securities and Exchange Commission. The firm owned 60,770 shares of the business services provider's stock after selling 22,869 shares during the quarter. OppenheimerFunds Inc. owned approximately 0.15% of Trueblue worth $1,671,000 at the end of the most recent reporting period.
Other hedge funds have also recently bought and sold shares of the company. Macquarie Group Ltd. purchased a new stake in shares of Trueblue in the 3rd quarter valued at $117,000. Schroder Investment Management Group acquired a new position in Trueblue during the 4th quarter worth $149,000. Jane Street Group LLC acquired a new position in Trueblue during the 3rd quarter worth $203,000. Virginia Retirement Systems ET AL acquired a new position in Trueblue during the 3rd quarter worth $209,000. Finally, FNY Managed Accounts LLC acquired a new position in Trueblue during the 3rd quarter worth $215,000. Hedge funds and other institutional investors own 94.72% of the company's stock.
Several research analysts recently commented on the company. Zacks Investment Research cut Trueblue from a "hold" rating to a "sell" rating in a research note on Tuesday, January 2nd. TheStreet raised Trueblue from a "c+" rating to a "b" rating in a research note on Friday, November 17th. Finally, BMO Capital Markets lowered their target price on Trueblue from $30.00 to $29.00 and set a "market perform" rating for the company in a research note on Thursday, February 8th. One analyst has rated the stock with a sell rating, two have assigned a hold rating, one has assigned a buy rating and one has given a strong buy rating to the company's stock. Trueblue presently has a consensus rating of "Hold" and a consensus target price of $28.67.
In related news, Director Bonnie W. Soodik sold 20,871 shares of the business's stock in a transaction on Tuesday, February 13th. The stock was sold at an average price of $27.85, for a total transaction of $581,257.35. Following the completion of the transaction, the director now directly owns 2,119 shares of the company's stock, valued at approximately $59,014.15. The transaction was disclosed in a legal filing with the Securities & Exchange Commission, which is available at
the SEC website
. Insiders own 2.00% of the company's stock.
Trueblue Inc (TBI) opened at $27.75 on Wednesday. Trueblue Inc has a one year low of $19.30 and a one year high of $29.50. The company has a market capitalization of $1,148.45, a price-to-earnings ratio of 20.86 and a beta of 2.18. The company has a current ratio of 2.02, a quick ratio of 2.02 and a debt-to-equity ratio of 0.21.
Trueblue (NYSE:TBI) last released its earnings results on Wednesday, February 7th. The business services provider reported $0.51 EPS for the quarter, topping the Thomson Reuters' consensus estimate of $0.48 by $0.03. Trueblue had a return on equity of 13.30% and a net margin of 2.21%. The firm had revenue of $669.63 million during the quarter, compared to analysts' expectations of $667.66 million. During the same period in the previous year, the firm posted $0.58 EPS. Trueblue's revenue for the quarter was down 8.9% on a year-over-year basis. analysts anticipate that Trueblue Inc will post 2.21 earnings per share for the current fiscal year.
ILLEGAL ACTIVITY NOTICE: This report was originally reported by American Banking News and is owned by of American Banking News. If you are accessing this report on another site, it was stolen and republished in violation of United States & international copyright & trademark law. The original version of this report can be viewed at https://www.americanbankingnews.com/2018/03/14/trueblue-inc-tbi-shares-sold-by-oppenheimerfunds-inc.html.
Trueblue Company Profile
TrueBlue, Inc is a provider of specialized workforce solutions. The Company is engaged in providing staffing, on-site workforce management and recruitment process outsourcing services. The Company operates through three segments: PeopleReady, PeopleManagement and PeopleScout. Its PeopleReady segment provides blue-collar contingent staffing through the PeopleReady service line.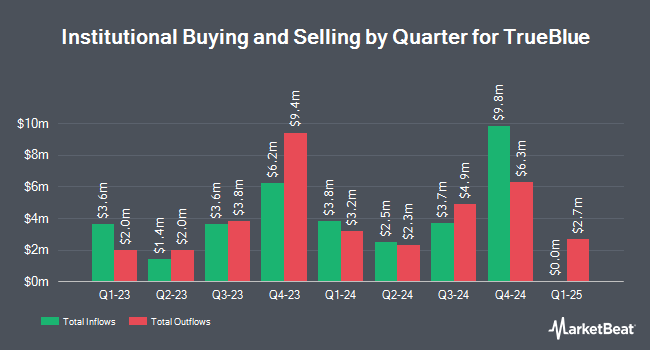 Receive News & Ratings for Trueblue Daily - Enter your email address below to receive a concise daily summary of the latest news and analysts' ratings for Trueblue and related companies with MarketBeat.com's FREE daily email newsletter.