Westar Energy Inc (NYSE:WR) CFO Anthony D. Somma sold 12,000 shares of Westar Energy stock in a transaction that occurred on Tuesday, March 13th. The shares were sold at an average price of $49.93, for a total transaction of $599,160.00. The transaction was disclosed in a legal filing with the SEC, which can be accessed through the SEC website.
Shares of Westar Energy Inc (WR) traded up $0.19 during midday trading on Wednesday, reaching $50.10. 265,163 shares of the company traded hands, compared to its average volume of 707,366. The stock has a market cap of $7,073.25, a price-to-earnings ratio of 21.91, a PEG ratio of 4.97 and a beta of 0.41. The company has a debt-to-equity ratio of 0.98, a quick ratio of 0.53 and a current ratio of 0.88. Westar Energy Inc has a 12 month low of $47.06 and a 12 month high of $57.32.
Westar Energy (NYSE:WR) last issued its quarterly earnings results on Wednesday, February 21st. The utilities provider reported $0.24 EPS for the quarter, missing the consensus estimate of $0.40 by ($0.16). The company had revenue of $595.00 million during the quarter, compared to analysts' expectations of $642.02 million. Westar Energy had a return on equity of 8.40% and a net margin of 12.60%. Westar Energy's revenue was down 1.8% compared to the same quarter last year. During the same period in the previous year, the firm posted $0.38 EPS. research analysts predict that Westar Energy Inc will post 2.5 EPS for the current fiscal year.
The business also recently declared a quarterly dividend, which will be paid on Monday, April 2nd. Investors of record on Friday, March 9th will be issued a $0.40 dividend. This represents a $1.60 annualized dividend and a yield of 3.19%. The ex-dividend date is Thursday, March 8th. Westar Energy's payout ratio is presently 70.48%.
A number of hedge funds and other institutional investors have recently modified their holdings of WR. Ffcm LLC acquired a new stake in Westar Energy during the 3rd quarter worth $113,000. Steward Partners Investment Advisory LLC boosted its stake in Westar Energy by 70.2% during the 4th quarter. Steward Partners Investment Advisory LLC now owns 2,628 shares of the utilities provider's stock worth $138,000 after purchasing an additional 1,084 shares during the last quarter. Legg Mason Asset Management Japan Co. Ltd. acquired a new stake in Westar Energy during the 4th quarter worth $159,000. Colorado Capital Management Inc. acquired a new stake in Westar Energy during the 4th quarter worth $205,000. Finally, Janney Montgomery Scott LLC acquired a new stake in Westar Energy during the 3rd quarter worth $212,000. 74.66% of the stock is owned by institutional investors.
Several equities analysts have recently weighed in on WR shares. Zacks Investment Research raised shares of Westar Energy from a "hold" rating to a "buy" rating and set a $57.00 target price for the company in a report on Sunday, January 21st. TheStreet lowered shares of Westar Energy from a "b" rating to a "c+" rating in a report on Thursday, February 22nd. UBS Group started coverage on shares of Westar Energy in a report on Friday, February 2nd. They issued a "neutral" rating and a $55.00 price target for the company. Finally, JPMorgan Chase & Co. cut their price target on shares of Westar Energy from $62.00 to $56.00 and set an "overweight" rating for the company in a report on Thursday, January 25th. One research analyst has rated the stock with a sell rating, two have issued a hold rating and five have assigned a buy rating to the company's stock. Westar Energy has a consensus rating of "Buy" and an average target price of $55.50.
COPYRIGHT VIOLATION WARNING: This story was reported by American Banking News and is the sole property of of American Banking News. If you are accessing this story on another site, it was stolen and reposted in violation of US & international copyright legislation. The original version of this story can be read at https://www.americanbankingnews.com/2018/03/14/westar-energy-inc-wr-cfo-sells-599160-00-in-stock.html.
About Westar Energy
Westar Energy, Inc is an electric utility. The Company provides electric generation, transmission and distribution services. The Company provides these services in central and northeastern Kansas, including the cities of Topeka, Lawrence, Manhattan, Salina and Hutchinson. Its subsidiary, Kansas Gas and Electric Company (KGE), provides these services in south-central and southeastern Kansas, including the city of Wichita.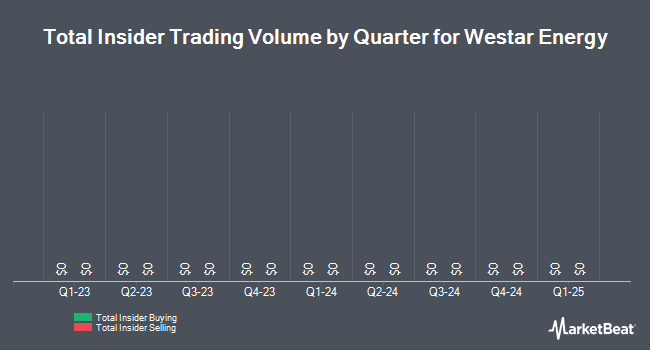 Receive News & Ratings for Westar Energy Daily - Enter your email address below to receive a concise daily summary of the latest news and analysts' ratings for Westar Energy and related companies with MarketBeat.com's FREE daily email newsletter.