Shares of BAE Systems (LON:BA) have received a consensus rating of "Hold" from the eleven ratings firms that are presently covering the company, Marketbeat reports. Two investment analysts have rated the stock with a sell recommendation, three have issued a hold recommendation, five have given a buy recommendation and one has given a strong buy recommendation to the company. The average 1-year price target among brokers that have covered the stock in the last year is GBX 637.80 ($8.49).
A number of brokerages have recently issued reports on BA. JPMorgan Chase & Co. boosted their price objective on BAE Systems from GBX 550 ($7.32) to GBX 600 ($7.99) and gave the company an "underweight" rating in a research note on Wednesday, May 23rd. Berenberg Bank raised BAE Systems to a "buy" rating and boosted their price objective for the company from GBX 600 ($7.99) to GBX 700 ($9.32) in a research note on Tuesday, April 24th. Goldman Sachs Group reissued a "conviction-buy" rating on shares of BAE Systems in a research note on Friday, April 6th. Citigroup reissued a "buy" rating and issued a GBX 750 ($9.99) price objective on shares of BAE Systems in a research note on Tuesday, March 27th. Finally, Deutsche Bank dropped their price objective on BAE Systems from GBX 730 ($9.72) to GBX 708 ($9.43) and set a "buy" rating on the stock in a research note on Monday, February 26th.
Shares of BAE Systems traded up GBX 5.60 ($0.07), reaching GBX 650.80 ($8.66), during midday trading on Thursday, Marketbeat reports. The company's stock had a trading volume of 8,835,263 shares, compared to its average volume of 9,870,000. BAE Systems has a fifty-two week low of GBX 533.50 ($7.10) and a fifty-two week high of GBX 682.50 ($9.09).
In related news, insider Peter Lynas sold 10,525 shares of the business's stock in a transaction dated Thursday, April 12th. The stock was sold at an average price of GBX 591 ($7.87), for a total value of £62,202.75 ($82,815.54).
BAE Systems Company Profile
BAE Systems plc operates as a defense, aerospace, and security company worldwide. Its Electronic Systems segment offers electronic warfare systems and electro-optical sensors, military and commercial digital engine and flight controls, precision guidance and seeker solutions, military communication systems and data links, persistent surveillance systems, and hybrid electric drive systems.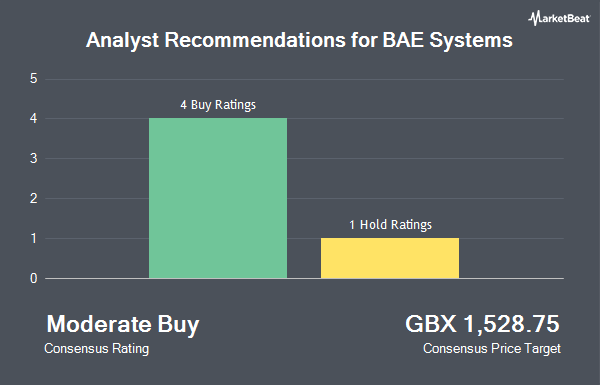 Receive News & Ratings for BAE Systems Daily - Enter your email address below to receive a concise daily summary of the latest news and analysts' ratings for BAE Systems and related companies with MarketBeat.com's FREE daily email newsletter.