AutoCanada (TSE:ACQ)'s stock had its "buy" rating restated by investment analysts at Clarus Securities in a research report issued on Friday.
ACQ has been the subject of a number of other reports. National Bank Financial set a C$29.50 price objective on AutoCanada and gave the stock an "outperform" rating in a research report on Friday, April 13th. Scotiabank set a C$27.50 price target on AutoCanada and gave the company a "sector perform" rating in a report on Friday, April 20th. Royal Bank of Canada reduced their price target on AutoCanada to C$30.00 and set an "outperform" rating for the company in a report on Monday, May 7th. CIBC cut AutoCanada from an "outperform" rating to an "outperform ? neutral" rating and set a C$27.00 price target for the company. in a report on Monday, May 7th. Finally, Cormark cut AutoCanada from a "buy" rating to a "market perform" rating and reduced their price target for the company from C$29.00 to C$19.00 in a report on Wednesday, June 6th. Two investment analysts have rated the stock with a hold rating and four have given a buy rating to the company's stock. The stock has an average rating of "Buy" and a consensus target price of C$24.83.
Shares of TSE:ACQ opened at C$14.35 on Friday. AutoCanada has a 52-week low of C$13.95 and a 52-week high of C$26.11.
In other AutoCanada news, insider Steven Landry acquired 4,000 shares of the stock in a transaction dated Friday, June 8th. The stock was acquired at an average price of C$16.34 per share, with a total value of C$65,360.00.
AutoCanada Company Profile
AutoCanada Inc, through its subsidiaries, operates franchised automobile dealerships in British Columbia, Alberta, Saskatchewan, Manitoba, Ontario, Quebec, Nova Scotia, and New Brunswick. The company offers a range of automotive products and services, including new and used vehicles, vehicle leasing, vehicle parts, vehicle maintenance and collision repair services, extended service contracts, vehicle protection products, and other after-market products.
Recommended Story: Diversification For Individual Investors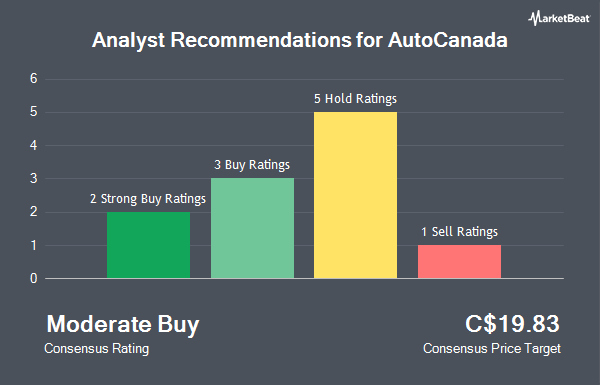 Receive News & Ratings for AutoCanada Daily - Enter your email address below to receive a concise daily summary of the latest news and analysts' ratings for AutoCanada and related companies with MarketBeat.com's FREE daily email newsletter.