BIO-TECHNE Corp (NASDAQ:TECH) declared a quarterly dividend on Wednesday, August 8th, Wall Street Journal reports. Shareholders of record on Friday, August 17th will be given a dividend of 0.32 per share by the biotechnology company on Friday, August 31st. This represents a $1.28 annualized dividend and a dividend yield of 0.72%. The ex-dividend date of this dividend is Thursday, August 16th.
BIO-TECHNE has raised its dividend payment by an average of 0.8% per year over the last three years. BIO-TECHNE has a payout ratio of 31.6% meaning its dividend is sufficiently covered by earnings. Analysts expect BIO-TECHNE to earn $4.54 per share next year, which means the company should continue to be able to cover its $1.28 annual dividend with an expected future payout ratio of 28.2%.
Shares of NASDAQ TECH traded down $2.82 during trading on Wednesday, hitting $177.32. The company had a trading volume of 389,359 shares, compared to its average volume of 185,646. The stock has a market capitalization of $6.25 billion, a P/E ratio of 51.85, a P/E/G ratio of 2.44 and a beta of 0.74. BIO-TECHNE has a 52 week low of $113.02 and a 52 week high of $183.90. The company has a debt-to-equity ratio of 0.37, a quick ratio of 4.30 and a current ratio of 5.55.
BIO-TECHNE (NASDAQ:TECH) last posted its quarterly earnings results on Tuesday, August 7th. The biotechnology company reported $1.34 earnings per share (EPS) for the quarter, beating the Thomson Reuters' consensus estimate of $1.29 by $0.05. The company had revenue of $180.25 million for the quarter, compared to analysts' expectations of $176.24 million. BIO-TECHNE had a return on equity of 14.75% and a net margin of 18.29%. research analysts forecast that BIO-TECHNE will post 4.05 earnings per share for the current year.
In other BIO-TECHNE news, CEO Charles R. Kummeth sold 8,000 shares of the business's stock in a transaction on Thursday, June 7th. The shares were sold at an average price of $160.00, for a total transaction of $1,280,000.00. The sale was disclosed in a filing with the SEC, which is available through the SEC website. 3.40% of the stock is owned by insiders.
Several research firms have issued reports on TECH. BidaskClub raised BIO-TECHNE from a "buy" rating to a "strong-buy" rating in a report on Saturday, July 28th. Leerink Swann reissued an "outperform" rating and set a $190.00 target price (up from $160.00) on shares of BIO-TECHNE in a research note on Wednesday. Deutsche Bank downgraded shares of BIO-TECHNE from a "buy" rating to a "hold" rating and set a $165.00 target price on the stock. in a research note on Wednesday, June 27th. Zacks Investment Research downgraded shares of BIO-TECHNE from a "buy" rating to a "hold" rating in a research note on Thursday, May 3rd. Finally, Robert W. Baird reissued a "positive" rating and set a $191.00 target price (up from $162.00) on shares of BIO-TECHNE in a research note on Wednesday. Two analysts have rated the stock with a hold rating, six have issued a buy rating and one has issued a strong buy rating to the company's stock. The stock has a consensus rating of "Buy" and a consensus target price of $172.71.
BIO-TECHNE Company Profile
Bio-Techne Corporation, together with its subsidiaries, develops, manufactures, and sells biotechnology reagents, instruments, and clinical diagnostic controls worldwide. It operates through three segments: Biotechnology, Protein Platforms, and Diagnostics. The Biotechnology segment offers native and recombinant proteins, monoclonal and polyclonal antibodies, immunoassays, biologically active chemical compounds, and in situ genomic hybridization assays for the research and clinical diagnostics markets.
Featured Article: Are Wall Street analysts' stock ratings worth following?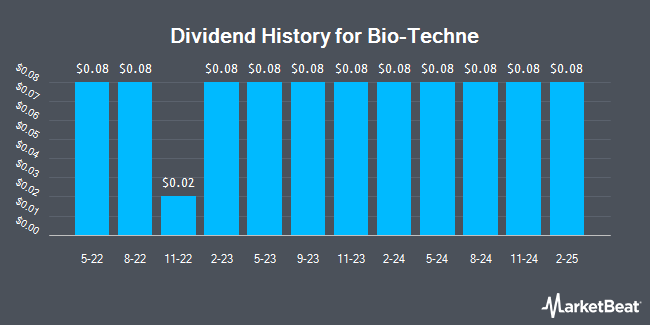 Receive News & Ratings for BIO-TECHNE Daily - Enter your email address below to receive a concise daily summary of the latest news and analysts' ratings for BIO-TECHNE and related companies with MarketBeat.com's FREE daily email newsletter.