Primoris Services Corp (NASDAQ:PRIM) declared a quarterly dividend on Wednesday, August 8th, Wall Street Journal reports. Shareholders of record on Friday, September 28th will be given a dividend of 0.06 per share by the construction company on Monday, October 15th. This represents a $0.24 dividend on an annualized basis and a yield of 0.96%. The ex-dividend date is Thursday, September 27th.
Primoris Services has raised its dividend by an average of 14.9% per year over the last three years. Primoris Services has a dividend payout ratio of 15.0% meaning its dividend is sufficiently covered by earnings. Equities analysts expect Primoris Services to earn $1.85 per share next year, which means the company should continue to be able to cover its $0.24 annual dividend with an expected future payout ratio of 13.0%.
NASDAQ PRIM traded down $0.20 on Wednesday, reaching $25.00. 524,153 shares of the company were exchanged, compared to its average volume of 257,461. The firm has a market capitalization of $1.41 billion, a P/E ratio of 21.74, a price-to-earnings-growth ratio of 1.71 and a beta of 1.12. The company has a debt-to-equity ratio of 0.32, a quick ratio of 1.58 and a current ratio of 1.58. Primoris Services has a fifty-two week low of $23.61 and a fifty-two week high of $30.00.
Primoris Services (NASDAQ:PRIM) last released its quarterly earnings data on Tuesday, August 7th. The construction company reported $0.31 earnings per share for the quarter, hitting the Zacks' consensus estimate of $0.31. The company had revenue of $648.79 million for the quarter, compared to analyst estimates of $593.65 million. Primoris Services had a return on equity of 9.50% and a net margin of 2.81%. sell-side analysts forecast that Primoris Services will post 1.6 EPS for the current year.
In other news, VP John M. Perisich sold 9,055 shares of the company's stock in a transaction on Thursday, May 17th. The stock was sold at an average price of $25.14, for a total value of $227,642.70. The sale was disclosed in a document filed with the SEC, which is available at the SEC website. Also, Director Brian Pratt sold 53,037 shares of the company's stock in a transaction on Tuesday, May 15th. The shares were sold at an average price of $25.00, for a total value of $1,325,925.00. Following the completion of the transaction, the director now directly owns 7,838,661 shares in the company, valued at approximately $195,966,525. The disclosure for this sale can be found here. In the last ninety days, insiders sold 612,164 shares of company stock worth $16,179,409. Corporate insiders own 19.50% of the company's stock.
PRIM has been the topic of a number of recent research reports. ValuEngine lowered Primoris Services from a "buy" rating to a "hold" rating in a research note on Wednesday. BidaskClub raised Primoris Services from a "buy" rating to a "strong-buy" rating in a research note on Tuesday, June 12th. Zacks Investment Research raised Primoris Services from a "sell" rating to a "hold" rating in a research note on Thursday, May 31st. Finally, DA Davidson upped their price target on Primoris Services to $34.00 and gave the company a "buy" rating in a research note on Friday, June 22nd. Four investment analysts have rated the stock with a hold rating and five have assigned a buy rating to the stock. The company has an average rating of "Buy" and an average target price of $30.80.
About Primoris Services
Primoris Services Corporation, a specialty contractor and infrastructure company, provides a range of construction, fabrication, maintenance, replacement, water and wastewater, and engineering services in the United States and internationally. It operates through Power, Pipeline, Utilities, and Civil segments.
Further Reading: How do investors use RSI to grade stocks?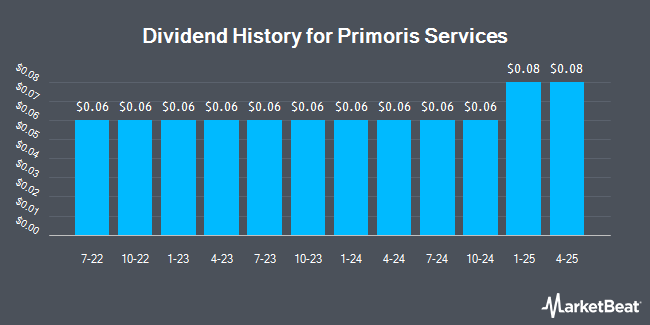 Receive News & Ratings for Primoris Services Daily - Enter your email address below to receive a concise daily summary of the latest news and analysts' ratings for Primoris Services and related companies with MarketBeat.com's FREE daily email newsletter.