Invesco Mortgage Capital (NYSE:IVR) will be issuing its quarterly earnings data before the market opens on Thursday, November 8th.
Invesco Mortgage Capital (NYSE:IVR) last posted its quarterly earnings data on Tuesday, August 7th. The real estate investment trust reported $0.41 EPS for the quarter, missing analysts' consensus estimates of $0.44 by ($0.03). The business had revenue of $103.90 million during the quarter. Invesco Mortgage Capital had a return on equity of 10.89% and a net margin of 52.70%.
Invesco Mortgage Capital stock opened at $15.08 on Thursday. The company has a current ratio of 0.01, a quick ratio of 0.01 and a debt-to-equity ratio of 0.85. The firm has a market capitalization of $1.66 billion, a price-to-earnings ratio of 8.46 and a beta of 0.57. Invesco Mortgage Capital has a 52 week low of $14.53 and a 52 week high of $18.86.
The company also recently declared a quarterly dividend, which was paid on Friday, October 26th. Stockholders of record on Tuesday, September 25th were paid a dividend of $0.42 per share. This represents a $1.68 annualized dividend and a dividend yield of 11.14%. The ex-dividend date was Monday, September 24th.
Several equities analysts have recently issued reports on IVR shares. Keefe, Bruyette & Woods lowered Invesco Mortgage Capital from an "outperform" rating to a "market perform" rating and set a $16.00 price target on the stock. in a research note on Thursday, August 9th. ValuEngine lowered Invesco Mortgage Capital from a "hold" rating to a "sell" rating in a research note on Wednesday, October 3rd.
About Invesco Mortgage Capital
Invesco Mortgage Capital Inc operates as a real estate investment trust (REIT) that focuses on investing in, financing, and managing residential and commercial mortgage-backed securities and mortgage loans. It invests in residential mortgage-backed securities (RMBS) that are guaranteed by the U.S. government agency or a federally chartered corporation; RMBS that are not issued or guaranteed by the U.S.
Further Reading: Understanding Average Daily Trade Volume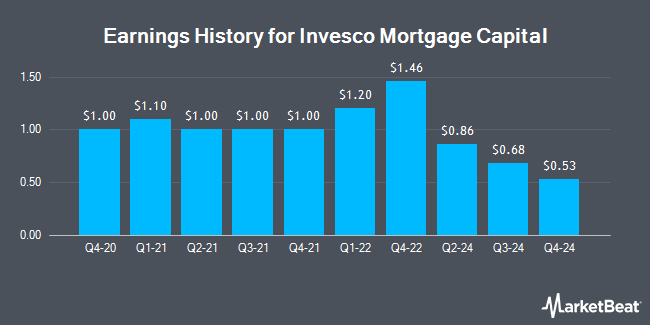 Receive News & Ratings for Invesco Mortgage Capital Daily - Enter your email address below to receive a concise daily summary of the latest news and analysts' ratings for Invesco Mortgage Capital and related companies with MarketBeat.com's FREE daily email newsletter.