Wall Street brokerages expect Highwoods Properties Inc (NYSE:HIW) to post $0.86 earnings per share (EPS) for the current quarter, Zacks reports. Five analysts have issued estimates for Highwoods Properties' earnings, with estimates ranging from $0.86 to $0.87. Highwoods Properties reported earnings per share of $0.84 in the same quarter last year, which suggests a positive year-over-year growth rate of 2.4%. The company is scheduled to issue its next earnings report on Tuesday, February 5th.
According to Zacks, analysts expect that Highwoods Properties will report full year earnings of $3.44 per share for the current financial year, with EPS estimates ranging from $3.42 to $3.45. For the next year, analysts anticipate that the firm will post earnings of $3.52 per share, with EPS estimates ranging from $3.48 to $3.56. Zacks' earnings per share calculations are an average based on a survey of research firms that that provide coverage for Highwoods Properties.
Highwoods Properties (NYSE:HIW) last issued its quarterly earnings results on Tuesday, October 23rd. The real estate investment trust reported $0.32 earnings per share for the quarter, meeting the Zacks' consensus estimate of $0.32. Highwoods Properties had a return on equity of 7.87% and a net margin of 24.37%. The business had revenue of $179.42 million during the quarter, compared to the consensus estimate of $173.78 million. During the same period in the previous year, the business earned $0.86 EPS. The business's quarterly revenue was down .4% on a year-over-year basis.
A number of equities research analysts have recently weighed in on HIW shares. SunTrust Banks set a $51.00 price target on Highwoods Properties and gave the company a "buy" rating in a report on Monday, July 30th. Zacks Investment Research upgraded Highwoods Properties from a "sell" rating to a "hold" rating in a report on Thursday, October 25th. ValuEngine upgraded Highwoods Properties from a "sell" rating to a "hold" rating in a report on Wednesday, October 24th. Finally, Wood & Company reiterated a "sell" rating on shares of Highwoods Properties in a report on Friday, August 10th. Two research analysts have rated the stock with a sell rating, two have assigned a hold rating and four have given a buy rating to the stock. Highwoods Properties currently has a consensus rating of "Hold" and a consensus target price of $53.00.
Hedge funds have recently made changes to their positions in the business. Stratos Wealth Partners LTD. acquired a new position in Highwoods Properties during the 3rd quarter worth $153,000. First Hawaiian Bank bought a new stake in shares of Highwoods Properties in the 3rd quarter worth $185,000. Advisors Asset Management Inc. raised its stake in shares of Highwoods Properties by 213.2% in the 2nd quarter. Advisors Asset Management Inc. now owns 26,649 shares of the real estate investment trust's stock worth $189,000 after buying an additional 18,141 shares in the last quarter. Wealthstreet Investment Advisors LLC bought a new stake in shares of Highwoods Properties in the 2nd quarter worth $203,000. Finally, Brown Advisory Inc. bought a new stake in shares of Highwoods Properties in the 2nd quarter worth $206,000. Institutional investors own 92.04% of the company's stock.
Shares of NYSE HIW opened at $43.89 on Friday. Highwoods Properties has a twelve month low of $41.34 and a twelve month high of $52.58. The company has a quick ratio of 1.13, a current ratio of 1.13 and a debt-to-equity ratio of 0.94. The company has a market capitalization of $4.60 billion, a PE ratio of 13.38, a PEG ratio of 3.12 and a beta of 0.76.
The firm also recently declared a quarterly dividend, which will be paid on Tuesday, December 4th. Shareholders of record on Monday, November 12th will be given a dividend of $0.4625 per share. The ex-dividend date of this dividend is Thursday, November 8th. This represents a $1.85 dividend on an annualized basis and a yield of 4.22%. Highwoods Properties's dividend payout ratio (DPR) is presently 56.40%.
Highwoods Properties Company Profile
Highwoods Properties, Inc, headquartered in Raleigh, is a publicly-traded (NYSE:HIW) real estate investment trust ("REIT") and a member of the S&P MidCap 400 Index. The Company is a fullyintegrated office REIT that owns, develops, acquires, leases and manages properties primarily in the best business districts (BBDs) of Atlanta, Greensboro, Memphis, Nashville, Orlando, Pittsburgh, Raleigh, Richmond and Tampa.
Featured Article: Compound Interest
Get a free copy of the Zacks research report on Highwoods Properties (HIW)
For more information about research offerings from Zacks Investment Research, visit Zacks.com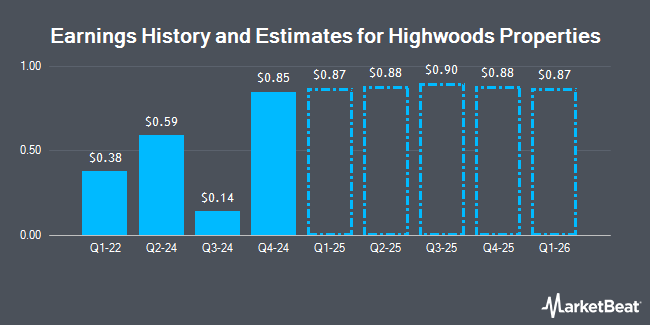 Receive News & Ratings for Highwoods Properties Daily - Enter your email address below to receive a concise daily summary of the latest news and analysts' ratings for Highwoods Properties and related companies with MarketBeat.com's FREE daily email newsletter.