Crown Crafts (NASDAQ:CRWS) announced its earnings results on Thursday. The textile maker reported $0.18 earnings per share (EPS) for the quarter, hitting the consensus estimate of $0.18, MarketWatch Earnings reports. Crown Crafts had a net margin of 3.84% and a return on equity of 10.27%. The company had revenue of $20.54 million during the quarter.
NASDAQ:CRWS traded up $0.03 during midday trading on Friday, hitting $5.93. The company had a trading volume of 2,808 shares, compared to its average volume of 17,724. Crown Crafts has a 52-week low of $5.00 and a 52-week high of $7.54. The firm has a market capitalization of $51.96 million, a PE ratio of 12.90 and a beta of 0.61. The company has a debt-to-equity ratio of 0.10, a quick ratio of 1.66 and a current ratio of 3.80.
The business also recently announced a quarterly dividend, which will be paid on Friday, January 4th. Investors of record on Friday, December 14th will be given a $0.08 dividend. The ex-dividend date of this dividend is Thursday, December 13th. This represents a $0.32 annualized dividend and a yield of 5.40%. Crown Crafts's dividend payout ratio (DPR) is presently 59.26%.
In related news, CEO Nanci Freeman sold 20,000 shares of the company's stock in a transaction on Tuesday, September 11th. The shares were sold at an average price of $6.02, for a total value of $120,400.00. Following the completion of the transaction, the chief executive officer now directly owns 179,979 shares in the company, valued at $1,083,473.58. The sale was disclosed in a document filed with the Securities & Exchange Commission, which can be accessed through this hyperlink. Insiders sold 25,451 shares of company stock valued at $153,200 over the last quarter. 14.21% of the stock is owned by company insiders.
A number of large investors have recently made changes to their positions in CRWS. Ariel Investments LLC purchased a new position in Crown Crafts in the second quarter worth $898,000. Skylands Capital LLC purchased a new stake in Crown Crafts during the third quarter valued at about $428,000. North Star Investment Management Corp. boosted its position in Crown Crafts by 11.2% during the third quarter. North Star Investment Management Corp. now owns 743,474 shares of the textile maker's stock valued at $4,238,000 after buying an additional 74,771 shares during the period. Renaissance Technologies LLC boosted its position in Crown Crafts by 17.2% during the second quarter. Renaissance Technologies LLC now owns 356,440 shares of the textile maker's stock valued at $2,032,000 after buying an additional 52,340 shares during the period. Finally, UBS Group AG boosted its position in Crown Crafts by 231.4% during the first quarter. UBS Group AG now owns 20,987 shares of the textile maker's stock valued at $124,000 after buying an additional 14,655 shares during the period. Institutional investors own 38.64% of the company's stock.
ILLEGAL ACTIVITY WARNING: "Crown Crafts (CRWS) Issues Quarterly Earnings Results, Meets Estimates" was reported by American Banking News and is owned by of American Banking News. If you are viewing this report on another domain, it was illegally stolen and republished in violation of US & international trademark & copyright laws. The legal version of this report can be accessed at https://www.americanbankingnews.com/2018/11/10/crown-crafts-crws-issues-quarterly-earnings-results-meets-estimates.html.
Crown Crafts Company Profile
Crown Crafts, Inc, through its subsidiaries, operates in the consumer products industry in the United States and internationally. It provides infant, toddler, and juvenile products, including infant and toddler beddings; blankets and swaddle blankets; nursery and toddler accessories; room décors; reusable and disposable bibs; burp cloths; hooded bath towels and washcloths; reusable and disposable placemats, and floor mats; disposable toilet seat covers and changing mats; developmental toys; feeding and care goods; and other infant, toddler, and juvenile soft goods.
Read More: Index Funds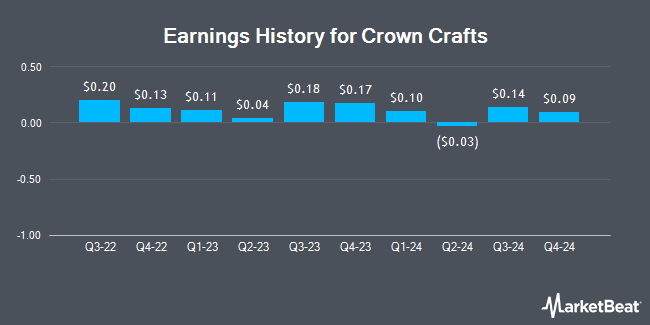 Receive News & Ratings for Crown Crafts Daily - Enter your email address below to receive a concise daily summary of the latest news and analysts' ratings for Crown Crafts and related companies with MarketBeat.com's FREE daily email newsletter.