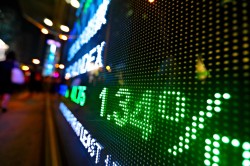 MMA Capital Management (NASDAQ:MMAC) released its quarterly earnings data on Friday. The financial services provider reported $1.41 earnings per share (EPS) for the quarter, Morningstar.com reports. The firm had revenue of $2.81 million during the quarter. MMA Capital Management had a return on equity of 7.26% and a net margin of 127.87%.
NASDAQ:MMAC remained flat at $$26.25 during trading hours on Friday. The company's stock had a trading volume of 137 shares, compared to its average volume of 8,245. The stock has a market capitalization of $150.38 million, a PE ratio of 10.89 and a beta of 0.42. The company has a debt-to-equity ratio of 1.09, a current ratio of 32.13 and a quick ratio of 12.64. MMA Capital Management has a 1 year low of $23.70 and a 1 year high of $30.58.
In other MMA Capital Management news, Director James Christopher Hunt acquired 1,000 shares of the business's stock in a transaction on Thursday, August 30th. The stock was purchased at an average price of $26.95 per share, for a total transaction of $26,950.00. Following the completion of the transaction, the director now owns 3,500 shares of the company's stock, valued at approximately $94,325. The transaction was disclosed in a legal filing with the Securities & Exchange Commission, which is available through this link. Insiders acquired 20,277 shares of company stock valued at $547,300 in the last quarter. 18.30% of the stock is currently owned by company insiders.
A hedge fund recently raised its stake in MMA Capital Management stock. Dimensional Fund Advisors LP grew its position in MMA Capital Management LLC (NASDAQ:MMAC) by 107.0% in the first quarter, according to the company in its most recent Form 13F filing with the Securities & Exchange Commission. The institutional investor owned 18,887 shares of the financial services provider's stock after buying an additional 9,764 shares during the quarter. Dimensional Fund Advisors LP owned 0.33% of MMA Capital Management worth $514,000 at the end of the most recent quarter. Hedge funds and other institutional investors own 10.68% of the company's stock.
TRADEMARK VIOLATION WARNING: This piece was originally posted by American Banking News and is owned by of American Banking News. If you are viewing this piece on another domain, it was stolen and republished in violation of United States & international trademark & copyright law. The correct version of this piece can be accessed at https://www.americanbankingnews.com/2018/11/10/mma-capital-management-mmac-announces-quarterly-earnings-results.html.
About MMA Capital Management
MMA Capital Management, LLC creates and manages investments in housing and renewable energy sectors in the United States and internationally. Its investments in debt securities comprises multifamily tax-exempt bonds, as well as other real estate related bond investments. The company offers leveraged bonds; low-income housing tax credits; asset management and administrative services to a limited liability company and a commercial bank; and guarantees to the institutional investors related to the receipt of tax credits.
Featured Story: Outstanding Shares, Buying and Selling Stocks
Receive News & Ratings for MMA Capital Management Daily - Enter your email address below to receive a concise daily summary of the latest news and analysts' ratings for MMA Capital Management and related companies with MarketBeat.com's FREE daily email newsletter.