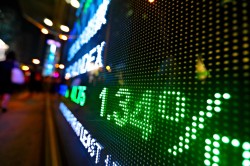 Youngevity International (NASDAQ:YGYI) is scheduled to announce its earnings results before the market opens on Tuesday, November 13th.
Youngevity International (NASDAQ:YGYI) last announced its quarterly earnings results on Tuesday, August 14th. The company reported ($0.03) earnings per share for the quarter, beating analysts' consensus estimates of ($0.06) by $0.03. The firm had revenue of $44.26 million for the quarter. Youngevity International had a negative net margin of 6.26% and a negative return on equity of 79.57%.
Shares of YGYI stock opened at $8.42 on Friday. The company has a debt-to-equity ratio of 1.44, a current ratio of 0.93 and a quick ratio of 0.33. Youngevity International has a fifty-two week low of $3.17 and a fifty-two week high of $16.25.
Separately, Benchmark started coverage on shares of Youngevity International in a research report on Friday, August 10th. They set a "buy" rating and a $7.00 price target on the stock.
WARNING: "Youngevity International (YGYI) Scheduled to Post Quarterly Earnings on Tuesday" was originally posted by American Banking News and is owned by of American Banking News. If you are accessing this piece on another publication, it was stolen and republished in violation of United States & international trademark and copyright laws. The correct version of this piece can be read at https://www.americanbankingnews.com/2018/11/10/youngevity-international-ygyi-scheduled-to-post-quarterly-earnings-on-tuesday.html.
Youngevity International Company Profile
Youngevity International, Inc develops and distributes health and nutrition related products and services through independent direct selling network in the United States and internationally. It operates in two segments, Direct Selling and Commercial Coffee. The company offers approximately 5,500 products, including nutritional, vitamin, mineral, herbal, liquid, and dietary supplements; apparel; fashion and jewelry accessories; digital products; and packaged foods.
Featured Article: Reverse Stock Split
Receive News & Ratings for Youngevity International Daily - Enter your email address below to receive a concise daily summary of the latest news and analysts' ratings for Youngevity International and related companies with MarketBeat.com's FREE daily email newsletter.