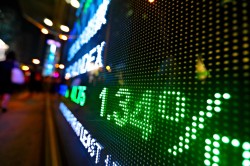 FIL Ltd bought a new stake in shares of Aurora Mobile Ltd – (NASDAQ:JG) during the 3rd quarter, according to its most recent 13F filing with the Securities and Exchange Commission (SEC). The firm bought 580,000 shares of the company's stock, valued at approximately $3,979,000. FIL Ltd owned approximately 0.50% of Aurora Mobile at the end of the most recent reporting period.
Separately, Fosun International Ltd acquired a new stake in shares of Aurora Mobile in the third quarter valued at about $1,471,000. 0.71% of the stock is owned by institutional investors.
Separately, Goldman Sachs Group assumed coverage on Aurora Mobile in a research report on Monday, August 20th. They issued a "buy" rating and a $12.00 price target on the stock.
Shares of NASDAQ:JG opened at $6.15 on Monday. Aurora Mobile Ltd – has a 52-week low of $5.00 and a 52-week high of $11.72. The company has a current ratio of 4.93, a quick ratio of 4.93 and a debt-to-equity ratio of 0.35.
Aurora Mobile (NASDAQ:JG) last issued its quarterly earnings results on Tuesday, November 20th. The company reported ($0.04) earnings per share (EPS) for the quarter, missing the Thomson Reuters' consensus estimate of ($0.02) by ($0.02). The firm had revenue of $28.65 million during the quarter.
WARNING: This news story was first posted by American Banking News and is owned by of American Banking News. If you are accessing this news story on another publication, it was illegally copied and reposted in violation of US and international trademark & copyright legislation. The correct version of this news story can be accessed at https://www.americanbankingnews.com/2018/12/03/fil-ltd-takes-position-in-aurora-mobile-ltd-jg.html.
Aurora Mobile Profile
Aurora Mobile Limited provides mobile big data solutions platform in the People's Republic of China. The company offers developer services that integrate with various mobile apps and provide core in-app functionalities needed by developers, including push notification, instant messaging, analytics, sharing, and short message service.
Recommended Story: Google Finance Portfolio Tips and Tricks

Receive News & Ratings for Aurora Mobile Daily - Enter your email address below to receive a concise daily summary of the latest news and analysts' ratings for Aurora Mobile and related companies with MarketBeat.com's FREE daily email newsletter.