Brokerages expect Marathon Petroleum Corp (NYSE:MPC) to announce earnings of $1.15 per share for the current fiscal quarter, Zacks reports. Two analysts have made estimates for Marathon Petroleum's earnings. The highest EPS estimate is $1.70 and the lowest is $0.69. Marathon Petroleum reported earnings of $1.05 per share in the same quarter last year, which would suggest a positive year over year growth rate of 9.5%. The firm is expected to announce its next quarterly earnings report on Thursday, February 7th.
According to Zacks, analysts expect that Marathon Petroleum will report full-year earnings of $5.14 per share for the current fiscal year, with EPS estimates ranging from $4.87 to $5.36. For the next fiscal year, analysts forecast that the company will report earnings of $7.07 per share, with EPS estimates ranging from $4.63 to $8.50. Zacks Investment Research's EPS averages are a mean average based on a survey of sell-side research firms that follow Marathon Petroleum.
Marathon Petroleum (NYSE:MPC) last posted its earnings results on Thursday, November 1st. The oil and gas company reported $1.70 earnings per share for the quarter, beating the Zacks' consensus estimate of $1.68 by $0.02. Marathon Petroleum had a return on equity of 12.28% and a net margin of 4.48%. The company had revenue of $23.13 billion for the quarter, compared to analyst estimates of $23.20 billion. During the same quarter last year, the company earned $1.77 earnings per share. The company's revenue for the quarter was up 19.3% on a year-over-year basis.
A number of research analysts have recently weighed in on MPC shares. Zacks Investment Research upgraded Marathon Petroleum from a "hold" rating to a "buy" rating and set a $94.00 target price on the stock in a report on Monday, August 27th. Morgan Stanley set a $110.00 target price on Marathon Petroleum and gave the company a "buy" rating in a report on Friday, October 12th. Barclays started coverage on Marathon Petroleum in a report on Wednesday, October 3rd. They issued an "overweight" rating and a $125.00 target price on the stock. Cowen reiterated a "buy" rating and set a $111.00 price target on shares of Marathon Petroleum in a report on Thursday, November 29th. Finally, Citigroup lifted their price target on Marathon Petroleum from $100.00 to $110.00 and gave the stock a "buy" rating in a report on Tuesday, October 16th. Three analysts have rated the stock with a hold rating, fourteen have assigned a buy rating and one has issued a strong buy rating to the stock. The company presently has a consensus rating of "Buy" and a consensus target price of $92.93.
In other Marathon Petroleum news, Director Steven A. Davis purchased 2,500 shares of the company's stock in a transaction that occurred on Monday, November 19th. The shares were acquired at an average cost of $62.20 per share, for a total transaction of $155,500.00. Following the completion of the acquisition, the director now owns 16,462 shares of the company's stock, valued at approximately $1,023,936.40. The purchase was disclosed in a filing with the Securities & Exchange Commission, which is available through this hyperlink. Company insiders own 1.09% of the company's stock.
Large investors have recently added to or reduced their stakes in the business. Rational Advisors LLC increased its position in Marathon Petroleum by 282.4% in the third quarter. Rational Advisors LLC now owns 1,480 shares of the oil and gas company's stock worth $118,000 after buying an additional 1,093 shares during the last quarter. NEXT Financial Group Inc purchased a new stake in Marathon Petroleum in the third quarter worth $124,000. Columbia Asset Management purchased a new stake in Marathon Petroleum in the third quarter worth $156,000. Belpointe Asset Management LLC purchased a new stake in Marathon Petroleum in the third quarter worth $164,000. Finally, Virtus Alternative Investment Advisers Inc. purchased a new stake in Marathon Petroleum in the third quarter worth $184,000. 83.16% of the stock is owned by institutional investors and hedge funds.
MPC stock opened at $61.56 on Friday. Marathon Petroleum has a twelve month low of $60.64 and a twelve month high of $88.45. The company has a debt-to-equity ratio of 0.97, a quick ratio of 1.09 and a current ratio of 1.65. The company has a market capitalization of $43.76 billion, a PE ratio of 16.20, a P/E/G ratio of 0.86 and a beta of 1.43.
The firm also recently declared a quarterly dividend, which will be paid on Monday, December 10th. Investors of record on Wednesday, November 21st will be issued a dividend of $0.46 per share. The ex-dividend date is Tuesday, November 20th. This represents a $1.84 dividend on an annualized basis and a yield of 2.99%. Marathon Petroleum's dividend payout ratio (DPR) is currently 48.42%.
About Marathon Petroleum
Marathon Petroleum Corporation, together with its subsidiaries, engages in refining, marketing, retailing, and transporting petroleum products primarily in the United States. It operates through three segments: Refining & Marketing, Speedway, and Midstream. It refines crude oil and other feed stocks at its six refineries in the Gulf Coast and Midwest regions of the United States; and purchases refined products and ethanol for resale.
Read More: Quiet Period
Get a free copy of the Zacks research report on Marathon Petroleum (MPC)
For more information about research offerings from Zacks Investment Research, visit Zacks.com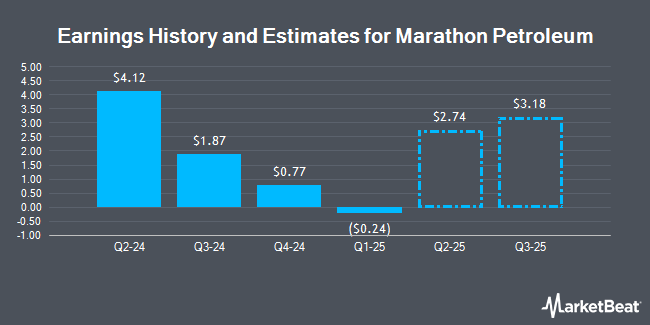 Receive News & Ratings for Marathon Petroleum Daily - Enter your email address below to receive a concise daily summary of the latest news and analysts' ratings for Marathon Petroleum and related companies with MarketBeat.com's FREE daily email newsletter.