Enzo Biochem (NYSE:ENZ) is scheduled to be releasing its earnings data after the market closes on Monday, December 10th.
Enzo Biochem (NYSE:ENZ) last released its earnings results on Tuesday, October 16th. The medical research company reported ($0.12) earnings per share (EPS) for the quarter, missing the consensus estimate of ($0.06) by ($0.06). The company had revenue of $24.46 million for the quarter. Enzo Biochem had a negative return on equity of 13.25% and a negative net margin of 9.86%.
Shares of NYSE ENZ opened at $3.23 on Friday. Enzo Biochem has a twelve month low of $2.95 and a twelve month high of $9.48.
Separately, TheStreet downgraded Enzo Biochem from a "c-" rating to a "d+" rating in a research report on Wednesday, October 17th.
In related news, insider Elazar Rabbani bought 10,000 shares of the stock in a transaction that occurred on Monday, October 29th. The stock was acquired at an average cost of $3.35 per share, with a total value of $33,500.00. Following the transaction, the insider now directly owns 1,848,668 shares in the company, valued at $6,193,037.80. The transaction was disclosed in a document filed with the Securities & Exchange Commission, which can be accessed through this link. Also, Director Bruce A. Hanna bought 15,000 shares of Enzo Biochem stock in a transaction dated Thursday, October 18th. The stock was purchased at an average price of $3.52 per share, with a total value of $52,800.00. The disclosure for this purchase can be found here. 9.40% of the stock is owned by corporate insiders.
COPYRIGHT VIOLATION WARNING: This piece was originally posted by American Banking News and is the property of of American Banking News. If you are viewing this piece on another domain, it was illegally copied and republished in violation of United States & international trademark & copyright legislation. The correct version of this piece can be accessed at https://www.americanbankingnews.com/2018/12/08/enzo-biochem-enz-scheduled-to-post-earnings-on-monday.html.
About Enzo Biochem
Enzo Biochem, Inc, an integrated diagnostic bioscience company, researches, develops, manufactures, and markets diagnostic and research products based on genetic engineering, biotechnology, and molecular biology. It operates in three segments: Life Sciences Products, Clinical Laboratory Services, and Therapeutics.
Featured Article: What impact do institutional investors have on markets?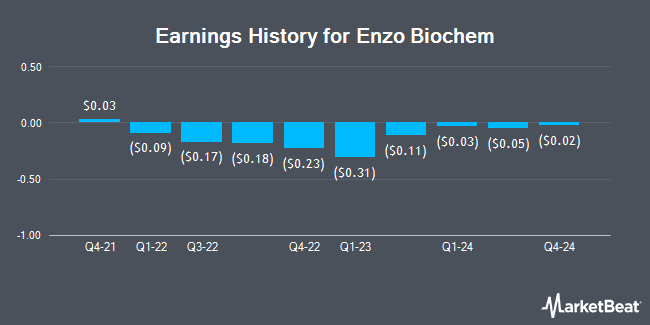 Receive News & Ratings for Enzo Biochem Daily - Enter your email address below to receive a concise daily summary of the latest news and analysts' ratings for Enzo Biochem and related companies with MarketBeat.com's FREE daily email newsletter.