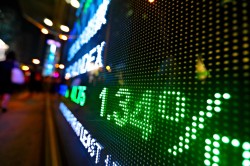 HALFORDS GRP PL/ADR (OTCMKTS:HLFDY) declared a Semi-Annual dividend on Thursday, November 15th, Zacks reports. Stockholders of record on Friday, December 14th will be paid a dividend of 0.141 per share on Monday, February 4th. The ex-dividend date is Thursday, December 13th.
Shares of HALFORDS GRP PL/ADR stock traded down $0.60 on Friday, hitting $6.95. The stock had a trading volume of 1,600 shares, compared to its average volume of 43. The company has a debt-to-equity ratio of 0.22, a quick ratio of 0.36 and a current ratio of 1.22. HALFORDS GRP PL/ADR has a one year low of $6.95 and a one year high of $11.07.
HLFDY has been the topic of several recent analyst reports. ValuEngine cut shares of HALFORDS GRP PL/ADR from a "hold" rating to a "sell" rating in a report on Monday, October 8th. Zacks Investment Research cut shares of HALFORDS GRP PL/ADR from a "hold" rating to a "sell" rating in a report on Wednesday, November 14th.
TRADEMARK VIOLATION WARNING: "HALFORDS GRP PL/ADR (HLFDY) to Issue $0.14 Semi-Annual Dividend" was first published by American Banking News and is owned by of American Banking News. If you are reading this story on another website, it was illegally stolen and reposted in violation of US and international copyright legislation. The correct version of this story can be accessed at https://www.americanbankingnews.com/2018/12/08/halfords-grp-pl-adr-hlfdy-to-issue-0-14-semi-annual-dividend.html.
HALFORDS GRP PL/ADR Company Profile
Halfords Group plc, through its subsidiaries, retails automotive, leisure, and cycling products in the United Kingdom and the Republic of Ireland. It operates in two segments, Retail and Car Servicing. The company retails auto parts, accessories, cycles, and cycle accessories; and provides garage servicing and auto repair services.
Recommended Story: How is a Moving Average Calculated?
Receive News & Ratings for HALFORDS GRP PL/ADR Daily - Enter your email address below to receive a concise daily summary of the latest news and analysts' ratings for HALFORDS GRP PL/ADR and related companies with MarketBeat.com's FREE daily email newsletter.