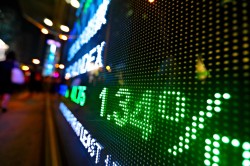 Home Financial Bancorp (OTCMKTS:HWEN) announced a quarterly dividend on Thursday, November 29th, Zacks reports. Stockholders of record on Friday, December 14th will be paid a dividend of 0.04 per share by the financial services provider on Thursday, January 3rd. This represents a $0.16 annualized dividend and a dividend yield of 2.30%. The ex-dividend date of this dividend is Thursday, December 13th.
Shares of OTCMKTS:HWEN traded up $0.60 during midday trading on Friday, hitting $6.95. 100 shares of the company's stock traded hands, compared to its average volume of 753. The firm has a market capitalization of $7.40 million, a price-to-earnings ratio of 52.92 and a beta of 0.18. Home Financial Bancorp has a twelve month low of $6.35 and a twelve month high of $8.15.
ILLEGAL ACTIVITY WARNING: This story was first reported by American Banking News and is owned by of American Banking News. If you are accessing this story on another domain, it was illegally stolen and republished in violation of United States & international trademark & copyright laws. The original version of this story can be accessed at https://www.americanbankingnews.com/2018/12/08/home-financial-bancorp-announces-quarterly-dividend-of-0-04-hwen.html.
Home Financial Bancorp Company Profile
Home Financial Bancorp operates as a holding company for Our Community Bank that offers various banking products and services in the United States. The company offers various deposits products, including demand deposits, savings accounts, NOW accounts, and money market deposits; commercial and industrial loans, nonresidential real estate loans, and residential, mobile home and land, and consumer loans.
Featured Story: Hedge Funds
Receive News & Ratings for Home Financial Bancorp Daily - Enter your email address below to receive a concise daily summary of the latest news and analysts' ratings for Home Financial Bancorp and related companies with MarketBeat.com's FREE daily email newsletter.