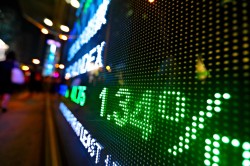 Immunoprecise Antibodies Ltd (CVE:IPA) Director Gianpaolo Fabrisio Andreola bought 20,000 shares of the stock in a transaction on Friday, December 7th. The shares were acquired at an average cost of C$0.65 per share, for a total transaction of C$13,000.00.
Gianpaolo Fabrisio Andreola also recently made the following trade(s):
On Wednesday, November 28th, Gianpaolo Fabrisio Andreola bought 6,000 shares of Immunoprecise Antibodies stock. The shares were acquired at an average cost of C$0.75 per share, for a total transaction of C$4,500.00.
Immunoprecise Antibodies stock remained flat at $C$0.65 during mid-day trading on Friday. 41,500 shares of the company's stock traded hands, compared to its average volume of 115,706. The company has a debt-to-equity ratio of 33.40, a quick ratio of 0.96 and a current ratio of 1.14. Immunoprecise Antibodies Ltd has a 52-week low of C$0.33 and a 52-week high of C$1.32.
COPYRIGHT VIOLATION WARNING: This story was reported by American Banking News and is the property of of American Banking News. If you are accessing this story on another publication, it was stolen and republished in violation of United States and international trademark & copyright laws. The original version of this story can be accessed at https://www.americanbankingnews.com/2018/12/08/immunoprecise-antibodies-ltd-ipa-director-purchases-c13000-00-in-stock.html.
Immunoprecise Antibodies Company Profile
ImmunoPrecise Antibodies Ltd. engages in the antibody production and related services in the United States, Canada, and Europe. The company also provides human antibody development, hybridoma development, genetic immunization, rabbit monoclonal antibody development, recombinant protein expression and production, cryostorage, hybridoma sequencing, antibody generation, antibody purification, polyclonal development, and peptide production services.
See Also: Systematic Risk
Receive News & Ratings for Immunoprecise Antibodies Daily - Enter your email address below to receive a concise daily summary of the latest news and analysts' ratings for Immunoprecise Antibodies and related companies with MarketBeat.com's FREE daily email newsletter.