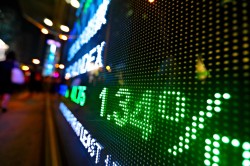 Correvio Pharma (NASDAQ:CORV)'s stock had its "buy" rating reiterated by equities research analysts at HC Wainwright in a report released on Monday. They presently have a $10.50 price target on the stock. HC Wainwright's target price would indicate a potential upside of 381.65% from the company's previous close.
The analysts wrote, "We maintain our Buy rating of Correvio and our 12-month price target of $10.50 per share. We derive our price target based on the average of two valuation methods:1) price-sales multiple analysis applying a 4x multiple to our 2025 risk-adjusted revenue estimate discounted at 12%; and 2) price-earnings multiple analysis applying an 18x multiple to our 2025 estimated earnings discounted at 12%. 1) commercial; 2) clinical; 3) partnership; 4) financial; and 5) intellectual property.""
Several other research analysts have also commented on the company. B. Riley started coverage on Correvio Pharma in a research report on Tuesday, December 4th. They issued a "buy" rating and a $7.00 price objective on the stock. Mackie raised Correvio Pharma from a "hold" rating to a "buy" rating in a research report on Friday, October 12th.
NASDAQ:CORV traded up $0.03 during mid-day trading on Monday, hitting $2.18. The company had a trading volume of 5,875 shares, compared to its average volume of 138,956. The company has a debt-to-equity ratio of 4.02, a current ratio of 4.05 and a quick ratio of 3.46. Correvio Pharma has a 1 year low of $1.31 and a 1 year high of $5.24. The firm has a market capitalization of $76.08 million, a PE ratio of -2.42 and a beta of 0.28.
Correvio Pharma (NASDAQ:CORV) last released its quarterly earnings data on Tuesday, November 6th. The company reported ($0.20) EPS for the quarter, meeting the consensus estimate of ($0.20). Correvio Pharma had a negative return on equity of 294.35% and a negative net margin of 68.98%. The company had revenue of $7.01 million for the quarter, compared to analyst estimates of $7.55 million. Equities analysts anticipate that Correvio Pharma will post -1.01 EPS for the current year.
Several hedge funds and other institutional investors have recently made changes to their positions in the company. Putnam Investments LLC purchased a new stake in shares of Correvio Pharma during the second quarter worth about $11,688,000. Renaissance Technologies LLC increased its position in shares of Correvio Pharma by 22.1% during the third quarter. Renaissance Technologies LLC now owns 739,248 shares of the company's stock worth $2,972,000 after acquiring an additional 133,825 shares during the last quarter. ARS Investment Partners LLC purchased a new stake in shares of Correvio Pharma during the third quarter worth about $1,121,000. Royce & Associates LP purchased a new stake in shares of Correvio Pharma during the third quarter worth about $1,025,000. Finally, Worth Venture Partners LLC purchased a new stake in shares of Correvio Pharma during the third quarter worth about $173,000. 45.88% of the stock is currently owned by institutional investors and hedge funds.
Correvio Pharma Company Profile
Correvio Pharma Corp., a specialty pharmaceutical company, provides various products to meet the needs of acute care physicians and patients worldwide. It develops, acquires, and commercializes various brands for the in-hospital acute care market segment. The company's portfolio of marketed brands include Xydalba (dalbavancin hydrochloride) for the treatment of acute bacterial skin and skin structure infections; Zevtera/Mabelio (ceftobiprole medocaril sodium), a cephalosporin antibiotic for the treatment of community and hospital-acquired pneumonia; and Brinavess (vernakalant IV) for the rapid conversion of recent onset atrial fibrillation to sinus rhythm.
Further Reading: Systematic Risk and Investors
Receive News & Ratings for Correvio Pharma Daily - Enter your email address below to receive a concise daily summary of the latest news and analysts' ratings for Correvio Pharma and related companies with MarketBeat.com's FREE daily email newsletter.