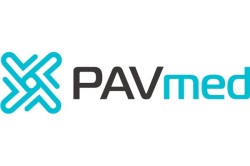 PAVmed (NASDAQ:PAVM)'s stock had its "buy" rating reaffirmed by equities research analysts at Maxim Group in a report released on Monday. They currently have a $3.00 target price on the stock. Maxim Group's target price suggests a potential upside of 201.99% from the stock's current price.
The analysts wrote, "On 1/7/19, the FDA held a pre-submission meeting with PAVM and recommended the company conduct human clinical studies for CarpX to address any remaining substantial equivalence (SE) issues. PAVM intends to utilize its first-in-human (FIH) clinical study in a second site to satisfy the FDA's requirements in support of a 510(k) resubmission. CarpX timeline being pushed out, we have lowered our estimates and price target to $3, from $4.""
NASDAQ:PAVM opened at $0.99 on Monday. PAVmed has a 1 year low of $0.86 and a 1 year high of $3.35. The firm has a market capitalization of $30.79 million, a PE ratio of -1.91 and a beta of -0.37.
PAVmed (NASDAQ:PAVM) last released its quarterly earnings results on Thursday, November 15th. The company reported ($0.08) earnings per share (EPS) for the quarter, topping the Thomson Reuters' consensus estimate of ($0.12) by $0.04. On average, research analysts expect that PAVmed will post -0.36 EPS for the current year.
An institutional investor recently raised its position in PAVmed stock. Vanguard Group Inc. lifted its holdings in PAVmed Inc (NASDAQ:PAVM) by 289.4% in the 3rd quarter, according to the company in its most recent disclosure with the SEC. The institutional investor owned 370,712 shares of the company's stock after purchasing an additional 275,512 shares during the quarter. Vanguard Group Inc. owned 1.40% of PAVmed worth $482,000 as of its most recent filing with the SEC. Hedge funds and other institutional investors own 2.41% of the company's stock.
PAVmed Company Profile
PAVmed Inc operates as a medical device company in the United States. The company's lead product pipeline includes CarpX, a percutaneous device to treat carpal tunnel syndrome; PortIO, an implantable intraosseous vascular access device; and DisappEAR, an antimicrobial resorbable ear tube. Its product pipeline also comprises NextCath, a self-anchoring catheter; NextFlo, a disposable infusion system; and Caldus, a disposable tissue ablation device.
Further Reading: The Role of a Fiduciary and Individual Investors
Receive News & Ratings for PAVmed Daily - Enter your email address below to receive a concise daily summary of the latest news and analysts' ratings for PAVmed and related companies with MarketBeat.com's FREE daily email newsletter.