Centrica (LON:CNA) was downgraded by Royal Bank of Canada to an "underperform" rating in a research report issued to clients and investors on Wednesday. They currently have a GBX 130 ($1.70) target price on the integrated energy company's stock, down from their previous target price of GBX 185 ($2.42). Royal Bank of Canada's target price points to a potential downside of 5.21% from the company's current price.
Several other equities research analysts have also weighed in on CNA. JPMorgan Chase & Co. raised their price objective on Centrica from GBX 180 ($2.35) to GBX 200 ($2.61) and gave the stock an "overweight" rating in a research note on Thursday, October 11th. Berenberg Bank reaffirmed a "buy" rating on shares of Centrica in a research report on Friday, October 26th. Credit Suisse Group reaffirmed an "outperform" rating and issued a GBX 180 ($2.35) target price on shares of Centrica in a research report on Monday, October 29th. Goldman Sachs Group decreased their target price on Centrica from GBX 176 ($2.30) to GBX 174 ($2.27) and set a "buy" rating for the company in a research report on Monday, November 19th. Finally, UBS Group lowered Centrica to a "neutral" rating and cut their price objective for the stock from GBX 165 ($2.16) to GBX 135 ($1.76) in a report on Wednesday, December 5th. Four equities research analysts have rated the stock with a sell rating, three have given a hold rating and five have assigned a buy rating to the stock. The company has a consensus rating of "Hold" and an average target price of GBX 143.75 ($1.88).
CNA opened at GBX 137.15 ($1.79) on Wednesday. Centrica has a fifty-two week low of GBX 119.71 ($1.56) and a fifty-two week high of GBX 221 ($2.89).
In other Centrica news, insider Margherita D. Valle sold 1,492 shares of the firm's stock in a transaction dated Monday, November 26th. The stock was sold at an average price of GBX 133 ($1.74), for a total transaction of £1,984.36 ($2,592.92).
About Centrica
Centrica plc operates as an integrated energy company in the United Kingdom, the Republic of Ireland, Germany, Norway, rest of Europe, the United States, Canada, and internationally. The company operates through Centrica Consumer, Centrica Business, Exploration & Production, and Centrica Storage segments.
Recommended Story: Benefits of owning preferred stock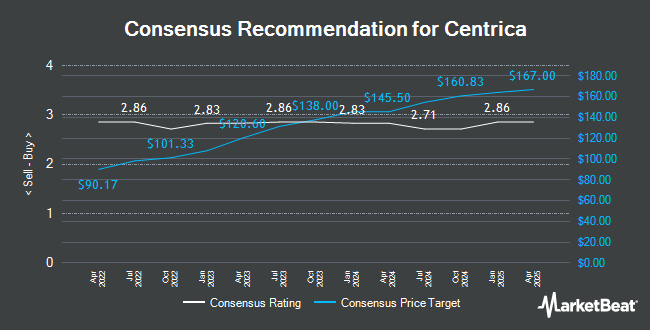 Receive News & Ratings for Centrica Daily - Enter your email address below to receive a concise daily summary of the latest news and analysts' ratings for Centrica and related companies with MarketBeat.com's FREE daily email newsletter.