FBL Financial Group (NYSE:FFG) posted its earnings results on Thursday. The financial services provider reported $0.75 earnings per share (EPS) for the quarter, missing analysts' consensus estimates of $0.92 by ($0.17), Bloomberg Earnings reports. FBL Financial Group had a net margin of 26.31% and a return on equity of 9.24%. The business had revenue of $158.64 million during the quarter, compared to analyst estimates of $190.76 million.
NYSE:FFG traded down $0.71 on Friday, reaching $68.41. The company's stock had a trading volume of 13,290 shares, compared to its average volume of 16,806. FBL Financial Group has a 1-year low of $63.66 and a 1-year high of $85.70. The company has a current ratio of 0.03, a quick ratio of 0.03 and a debt-to-equity ratio of 0.08. The stock has a market cap of $1.71 billion, a price-to-earnings ratio of 15.84 and a beta of 0.81.
Separately, Zacks Investment Research raised FBL Financial Group from a "sell" rating to a "hold" rating in a research note on Tuesday, November 6th.
ILLEGAL ACTIVITY WARNING: This news story was reported by American Banking News and is the property of of American Banking News. If you are accessing this news story on another publication, it was illegally copied and republished in violation of United States and international trademark and copyright laws. The legal version of this news story can be viewed at https://www.americanbankingnews.com/2019/02/09/fbl-financial-group-ffg-issues-earnings-results.html.
FBL Financial Group Company Profile
FBL Financial Group, Inc, through its subsidiaries, sells individual life insurance and annuity products. The Annuity segment sells various traditional annuity products that primarily consist of fixed rate and indexed annuities, and supplementary contracts. The Life Insurance segment offers whole life, term life, and universal life policies.
Read More: Correction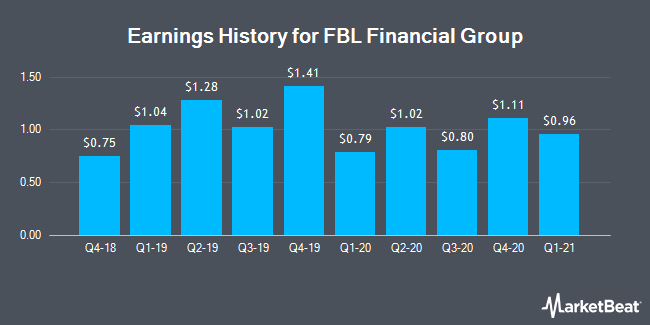 Receive News & Ratings for FBL Financial Group Daily - Enter your email address below to receive a concise daily summary of the latest news and analysts' ratings for FBL Financial Group and related companies with MarketBeat.com's FREE daily email newsletter.