Rewalk Robotics (NASDAQ:RWLK) released its quarterly earnings results on Friday. The medical device company reported ($0.10) earnings per share (EPS) for the quarter, beating analysts' consensus estimates of ($0.14) by $0.04, Morningstar.com reports. Rewalk Robotics had a negative return on equity of 3,654.32% and a negative net margin of 352.11%. The business had revenue of $1.58 million during the quarter.
Shares of NASDAQ RWLK remained flat at $$0.28 during midday trading on Friday. The stock had a trading volume of 8,567,807 shares, compared to its average volume of 9,670,836. Rewalk Robotics has a 12-month low of $0.16 and a 12-month high of $1.35. The stock has a market cap of $9.85 million, a P/E ratio of -0.28 and a beta of 1.88.
A number of brokerages have recently weighed in on RWLK. ValuEngine upgraded Rewalk Robotics from a "hold" rating to a "buy" rating in a research note on Monday, February 4th. Zacks Investment Research downgraded Rewalk Robotics from a "buy" rating to a "hold" rating in a research note on Thursday, October 25th. One research analyst has rated the stock with a sell rating, one has given a hold rating and three have issued a buy rating to the company. Rewalk Robotics presently has a consensus rating of "Hold" and a consensus target price of $1.56.
WARNING: "Rewalk Robotics (RWLK) Issues Earnings Results" was originally reported by American Banking News and is the property of of American Banking News. If you are viewing this piece of content on another domain, it was copied illegally and republished in violation of U.S. & international copyright laws. The legal version of this piece of content can be accessed at https://www.americanbankingnews.com/2019/02/09/rewalk-robotics-rwlk-issues-earnings-results.html.
Rewalk Robotics Company Profile
ReWalk Robotics Ltd., a medical device company, designs, develops, and commercializes exoskeletons for wheelchair-bound individuals with mobility impairments or other medical conditions. The company offers ReWalk Personal for everyday use to paraplegic individuals at home and in their communities; and ReWalk Rehabilitation for exercise and therapy used in hospitals and rehabilitation centers in the United States and Europe.
Featured Story: What is an Initial Public Offering (IPO)?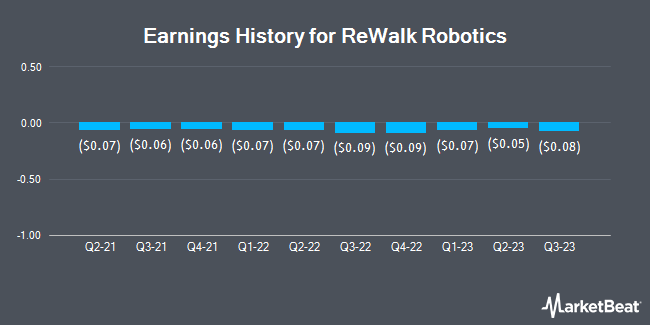 Receive News & Ratings for Rewalk Robotics Daily - Enter your email address below to receive a concise daily summary of the latest news and analysts' ratings for Rewalk Robotics and related companies with MarketBeat.com's FREE daily email newsletter.