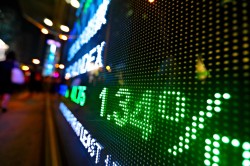 BioNano Genomics' (OTCMKTS:BNGOU) lock-up period will end on Monday, February 18th. BioNano Genomics had issued 3,360,000 shares in its public offering on August 21st. The total size of the offering was $20,596,800 based on an initial share price of $6.13. After the end of BioNano Genomics' lock-up period, restrictions preventing company insiders and major shareholders from selling shares in the company will be lifted.
OTCMKTS BNGOU opened at $7.55 on Monday. BioNano Genomics has a fifty-two week low of $5.40 and a fifty-two week high of $8.00.
ILLEGAL ACTIVITY WARNING: "BioNano Genomics' Lock-Up Period Will End on February 18th (OTCMKTS:BNGOU)" was first reported by American Banking News and is the sole property of of American Banking News. If you are reading this story on another publication, it was illegally stolen and reposted in violation of U.S. and international trademark & copyright law. The correct version of this story can be viewed at https://www.americanbankingnews.com/2019/02/11/bionano-genomics-lock-up-period-will-end-on-february-18th-otcmktsbngou.html.
About BioNano Genomics
BioNano Genomics, Inc operates as a life sciences instrumentation company in the genome analysis space. The company develops and markets the Saphyr system, a platform for ultra-sensitive and ultra-specific structural variation detection that enables researchers and clinicians to accelerate the search for new diagnostics and therapeutic targets and to streamline the study of changes in chromosomes, which is known as cytogenetics.
Featured Story: Price to Earnings Ratio (PE) Basics

Receive News & Ratings for BioNano Genomics Daily - Enter your email address below to receive a concise daily summary of the latest news and analysts' ratings for BioNano Genomics and related companies with MarketBeat.com's FREE daily email newsletter.