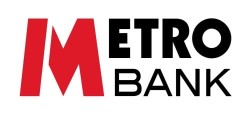 Metro Bank (LON:MTRO) was upgraded by Berenberg Bank to a "hold" rating in a research report issued on Friday. The brokerage presently has a GBX 1,200 ($15.68) price objective on the stock, down from their prior price objective of GBX 2,500 ($32.67). Berenberg Bank's price objective points to a potential downside of 11.37% from the stock's current price.
MTRO has been the subject of a number of other research reports. JPMorgan Chase & Co. cut their target price on shares of Metro Bank from GBX 2,200 ($28.75) to GBX 2,000 ($26.13) and set an "underweight" rating for the company in a research report on Monday, January 21st. Royal Bank of Canada restated a "sector performer" rating and set a GBX 3,000 ($39.20) price objective (down previously from GBX 4,000 ($52.27)) on shares of Metro Bank in a report on Friday, January 18th. One research analyst has rated the stock with a sell rating, three have assigned a hold rating and one has given a buy rating to the stock. The stock has an average rating of "Hold" and an average target price of GBX 2,700 ($35.28).
Metro Bank stock traded up GBX 84 ($1.10) on Friday, reaching GBX 1,354 ($17.69). 527,038 shares of the stock were exchanged, compared to its average volume of 215,330. Metro Bank has a twelve month low of GBX 3,162 ($41.32) and a twelve month high of GBX 4,056 ($53.00).
About Metro Bank
Metro Bank PLC, together with its subsidiaries, provides retail and corporate banking services in the United Kingdom. The company offers personal banking products and services, including current and savings accounts; residential mortgages; credit cards and personal loans; and safe deposit box services.
Further Reading: How can you know how many shares are floating?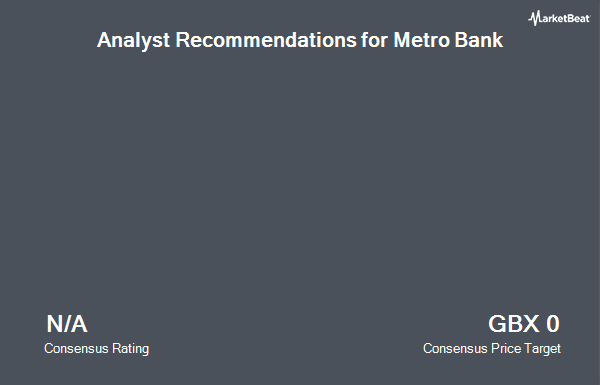 Receive News & Ratings for Metro Bank Daily - Enter your email address below to receive a concise daily summary of the latest news and analysts' ratings for Metro Bank and related companies with MarketBeat.com's FREE daily email newsletter.