Koninklijke DSM (OTCMKTS:RDSMY) will be releasing its earnings data before the market opens on Thursday, February 14th. Analysts expect Koninklijke DSM to post earnings of $0.32 per share for the quarter.
Shares of Koninklijke DSM stock opened at $23.73 on Tuesday. The company has a quick ratio of 1.67, a current ratio of 2.51 and a debt-to-equity ratio of 0.35. The firm has a market capitalization of $17.22 billion, a PE ratio of 21.38, a PEG ratio of 2.60 and a beta of 1.40. Koninklijke DSM has a 1-year low of $19.45 and a 1-year high of $27.34.
RDSMY has been the topic of a number of research analyst reports. Goldman Sachs Group upgraded Koninklijke DSM from a "neutral" rating to a "buy" rating in a research report on Friday, February 1st. ValuEngine upgraded Koninklijke DSM from a "sell" rating to a "hold" rating in a research report on Wednesday, January 2nd. Macquarie initiated coverage on Koninklijke DSM in a research report on Thursday, November 29th. They issued an "outperform" rating on the stock. Finally, Zacks Investment Research downgraded Koninklijke DSM from a "hold" rating to a "sell" rating in a research report on Saturday, November 3rd.
COPYRIGHT VIOLATION WARNING: This piece of content was published by American Banking News and is owned by of American Banking News. If you are viewing this piece of content on another domain, it was stolen and republished in violation of U.S. & international trademark and copyright legislation. The original version of this piece of content can be accessed at https://www.americanbankingnews.com/2019/02/12/koninklijke-dsm-rdsmy-to-release-earnings-on-thursday.html.
Koninklijke DSM Company Profile
Koninklijke DSM N.V., a science-based company, engages in health, nutrition, and materials businesses worldwide. The company operates through three segments: Nutrition, Materials, and Innovation Center. The Nutrition segment offers nutrients, such as vitamins, carotenoids, nutritional lipids, and other ingredients to feed, food, pharmaceutical, and personal care industries; and food enzymes, cultures, yeast extracts, savory flavors, hydrocolloids, and other specialty ingredients for use in dairy, baking, beverage, and savory applications.
Read More: How to Use a Moving Average for Trading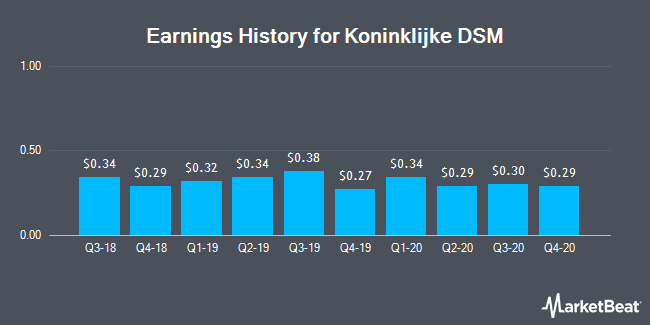 Receive News & Ratings for Koninklijke DSM Daily - Enter your email address below to receive a concise daily summary of the latest news and analysts' ratings for Koninklijke DSM and related companies with MarketBeat.com's FREE daily email newsletter.