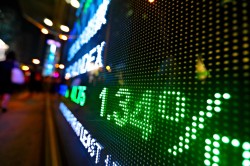 TechPrecision (OTCMKTS:TPCS) will be releasing its earnings data after the market closes on Wednesday, February 13th.
TechPrecision (OTCMKTS:TPCS) last posted its quarterly earnings data on Tuesday, November 13th. The industrial products company reported $0.01 EPS for the quarter. TechPrecision had a negative return on equity of 8.42% and a negative net margin of 4.45%. The company had revenue of $3.62 million for the quarter.
TPCS opened at $1.01 on Tuesday. TechPrecision has a one year low of $0.48 and a one year high of $1.05. The company has a quick ratio of 1.64, a current ratio of 2.06 and a debt-to-equity ratio of 0.43.
COPYRIGHT VIOLATION NOTICE: This piece was originally published by American Banking News and is the sole property of of American Banking News. If you are accessing this piece on another site, it was illegally copied and reposted in violation of U.S. & international trademark and copyright legislation. The correct version of this piece can be viewed at https://www.americanbankingnews.com/2019/02/12/techprecision-tpcs-to-release-earnings-on-wednesday.html.
TechPrecision Company Profile
TechPrecision Corporation, together with its subsidiaries, manufactures and sells precision, large-scale fabricated, and machined metal components and systems in the United States and the People's Republic of China. It offers custom components for ships and submarines, aerospace equipment, nuclear power plants, and large scale medical systems.
Further Reading: The Discount Rate – What You Need to Know
Receive News & Ratings for TechPrecision Daily - Enter your email address below to receive a concise daily summary of the latest news and analysts' ratings for TechPrecision and related companies with MarketBeat.com's FREE daily email newsletter.