Tilly's (NYSE:TLYS) updated its first quarter earnings guidance on Thursday. The company provided earnings per share guidance of (0.01)-$0.03 for the period, compared to the Thomson Reuters consensus earnings per share estimate of $0.07. The company issued revenue guidance of ~$128-130 million, compared to the consensus revenue estimate of $131.69 million.Tilly's also updated its Q1 2019 guidance to $-0.01-0.03 EPS.
A number of research firms have issued reports on TLYS. Zacks Investment Research raised Tilly's from a sell rating to a hold rating in a report on Wednesday, January 30th. Pivotal Research reaffirmed a buy rating and issued a $14.00 target price on shares of Tilly's in a report on Monday. ValuEngine lowered Tilly's from a buy rating to a hold rating in a report on Tuesday, November 20th. B. Riley lowered their target price on Tilly's from $25.00 to $21.00 and set a buy rating on the stock in a report on Thursday, November 29th. Finally, Roth Capital set a $18.00 target price on Tilly's and gave the company a buy rating in a report on Thursday, November 29th. Two analysts have rated the stock with a hold rating and five have assigned a buy rating to the company's stock. Tilly's presently has a consensus rating of Buy and a consensus price target of $18.40.
Shares of TLYS stock traded down $0.28 during mid-day trading on Thursday, reaching $11.46. The stock had a trading volume of 511,165 shares, compared to its average volume of 374,925. Tilly's has a one year low of $10.19 and a one year high of $25.46. The company has a market capitalization of $346.10 million, a P/E ratio of 17.63, a P/E/G ratio of 1.18 and a beta of 0.37.
The company also recently disclosed a dividend, which was paid on Wednesday, February 27th. Shareholders of record on Friday, February 15th were given a $1.00 dividend. The ex-dividend date was Thursday, February 14th.
In other Tilly's news, insider Hezy Shaked sold 20,000 shares of the firm's stock in a transaction that occurred on Thursday, December 20th. The stock was sold at an average price of $10.68, for a total value of $213,600.00. The sale was disclosed in a filing with the Securities & Exchange Commission, which is available at this link. 48.26% of the stock is currently owned by company insiders.
ILLEGAL ACTIVITY NOTICE: "Tilly's (TLYS) Releases Q1 Earnings Guidance" was posted by American Banking News and is the sole property of of American Banking News. If you are reading this piece of content on another website, it was copied illegally and republished in violation of United States and international trademark and copyright law. The original version of this piece of content can be read at https://www.americanbankingnews.com/2019/03/14/tillys-tlys-releases-q1-earnings-guidance.html.
About Tilly's
Tilly's, Inc retails casual apparel, footwear, and accessories for young men and women, and boys and girls in the United States. Its apparel merchandise includes tops, outerwear, bottoms, and dresses; and accessories merchandise comprises backpacks, hats, sunglasses, headphones, handbags, watches, jewelry, and others.
Featured Article: Reverse Stock Split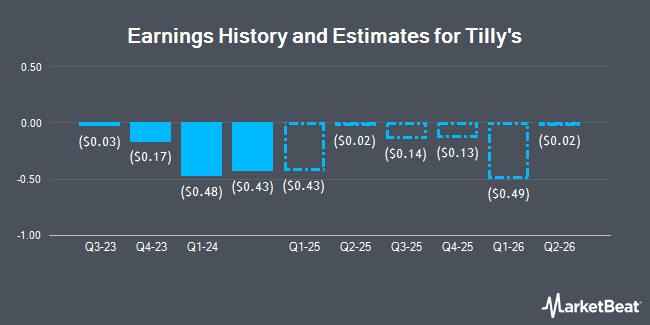 Receive News & Ratings for Tilly's Daily - Enter your email address below to receive a concise daily summary of the latest news and analysts' ratings for Tilly's and related companies with MarketBeat.com's FREE daily email newsletter.