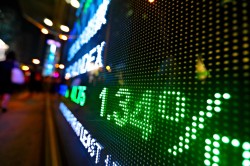 Pollard Banknote (TSE:PBL) had its target price lowered by research analysts at Cormark from C$27.00 to C$23.00 in a research report issued to clients and investors on Friday. Cormark's target price indicates a potential upside of 1.63% from the company's previous close.
Shares of PBL traded up C$0.21 during mid-day trading on Friday, reaching C$22.63. The company had a trading volume of 2,352 shares, compared to its average volume of 5,417. Pollard Banknote has a twelve month low of C$18.14 and a twelve month high of C$27.75. The company has a current ratio of 2.43, a quick ratio of 1.33 and a debt-to-equity ratio of 65.60. The stock has a market cap of $589.10 million and a PE ratio of 26.88.
Pollard Banknote Company Profile
Pollard Banknote Limited, together with its subsidiaries, provides lottery and charitable gaming products and services worldwide. The company offers instant tickets and lottery services, including licensed products, distribution, SureTrack lottery management system, retail telephone selling, marketing, iLottery, interactive gaming, Social Instants, retail management services, and vending machines, including charitable game systems and tickets under the brand name of Diamond Game.
See Also: Marijuana Stocks Future Looks Bright
Receive News & Ratings for Pollard Banknote Daily - Enter your email address below to receive a concise daily summary of the latest news and analysts' ratings for Pollard Banknote and related companies with MarketBeat.com's FREE daily email newsletter.