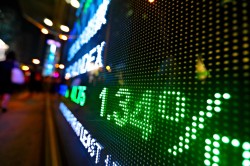 InMed Pharmaceuticals (TSE:IN) is scheduled to issue its quarterly earnings data before the market opens on Wednesday, May 15th. Analysts expect the company to announce earnings of C($0.01) per share for the quarter.
InMed Pharmaceuticals (TSE:IN) last posted its quarterly earnings data on Tuesday, February 12th. The company reported C($0.02) EPS for the quarter.
Shares of TSE IN remained flat at $C$0.47 during midday trading on Thursday. 7,725 shares of the stock traded hands, compared to its average volume of 264,580. InMed Pharmaceuticals has a twelve month low of C$0.30 and a twelve month high of C$1.24. The stock has a market capitalization of $75.19 million and a price-to-earnings ratio of -7.12.
Separately, Roth Capital reissued a "buy" rating on shares of InMed Pharmaceuticals in a research note on Friday, March 15th.
ILLEGAL ACTIVITY WARNING: "InMed Pharmaceuticals (IN) Set to Announce Quarterly Earnings on Wednesday" was first posted by American Banking News and is the sole property of of American Banking News. If you are viewing this piece of content on another website, it was illegally copied and reposted in violation of U.S. and international trademark and copyright law. The original version of this piece of content can be viewed at https://www.americanbankingnews.com/2019/05/09/inmed-pharmaceuticals-in-set-to-announce-quarterly-earnings-on-wednesday.html.
InMed Pharmaceuticals Company Profile
InMed Pharmaceuticals Inc, a pre-clinical stage biopharmaceutical company, researches and develops cannabinoid-based therapies. The company's lead product is INM-750, a topical cannabinoid product candidate to treat epidermolysis bullosa. The company is also involved in developing INM-085, a cannabinoid-based topical therapy for glaucoma; and INM-405 for the treatment of orofacial pain.
Read More: What is the QQQ ETF?
Receive News & Ratings for InMed Pharmaceuticals Daily - Enter your email address below to receive a concise daily summary of the latest news and analysts' ratings for InMed Pharmaceuticals and related companies with MarketBeat.com's FREE daily email newsletter.