Payment Data Systems (NASDAQ:PYDS) will issue its quarterly earnings data after the market closes on Wednesday, May 15th. Analysts expect the company to announce earnings of ($0.07) per share for the quarter.
Payment Data Systems (NASDAQ:PYDS) last issued its quarterly earnings data on Wednesday, March 27th. The business services provider reported ($0.07) earnings per share (EPS) for the quarter, beating the Thomson Reuters' consensus estimate of ($0.08) by $0.01. Payment Data Systems had a negative return on equity of 31.12% and a negative net margin of 15.09%. The firm had revenue of $6.42 million during the quarter, compared to the consensus estimate of $6.84 million. On average, analysts expect Payment Data Systems to post $0 EPS for the current fiscal year and $0 EPS for the next fiscal year.
Shares of PYDS opened at $2.58 on Friday. Payment Data Systems has a 52-week low of $1.38 and a 52-week high of $3.82. The firm has a market capitalization of $43.17 million, a price-to-earnings ratio of -8.32 and a beta of 1.85.
Several analysts have issued reports on PYDS shares. Barrington Research started coverage on Payment Data Systems in a research note on Wednesday, January 30th. They issued an "outperform" rating and a $5.00 price objective on the stock. ValuEngine upgraded Payment Data Systems from a "hold" rating to a "buy" rating in a research note on Wednesday, May 1st. Zacks Investment Research lowered Payment Data Systems from a "buy" rating to a "hold" rating in a research note on Friday, April 12th. Finally, Dawson James restated a "buy" rating on shares of Payment Data Systems in a research note on Monday, April 8th. One research analyst has rated the stock with a hold rating and four have issued a buy rating to the company's stock. The stock has an average rating of "Buy" and a consensus price target of $3.88.
In other news, Director Steve Huffman sold 17,186 shares of the stock in a transaction that occurred on Monday, February 25th. The stock was sold at an average price of $2.75, for a total transaction of $47,261.50. Following the transaction, the director now owns 49,481 shares in the company, valued at $136,072.75. The sale was disclosed in a filing with the SEC, which is available through the SEC website. 46.60% of the stock is currently owned by company insiders.
COPYRIGHT VIOLATION NOTICE: This piece of content was originally posted by American Banking News and is the sole property of of American Banking News. If you are reading this piece of content on another website, it was copied illegally and reposted in violation of US and international trademark and copyright legislation. The original version of this piece of content can be read at https://www.americanbankingnews.com/2019/05/10/payment-data-systems-pyds-to-release-quarterly-earnings-on-wednesday.html.
Payment Data Systems Company Profile
Payment Data Systems, Inc, together with its subsidiaries, provides integrated electronic payment processing services to merchants and businesses in the United States. The company offers various types of automated clearing house (ACH) processing; and credit, prepaid card, and debit card-based processing services.
Featured Story: What is a stock buyback?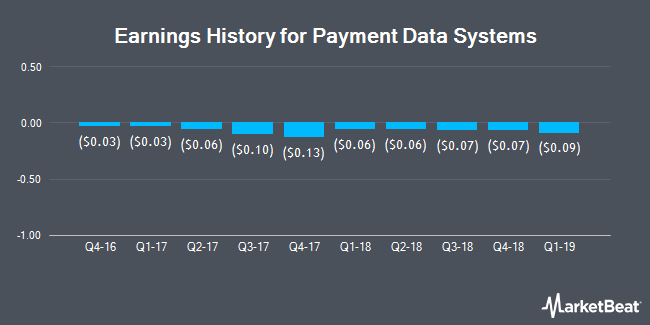 Receive News & Ratings for Payment Data Systems Daily - Enter your email address below to receive a concise daily summary of the latest news and analysts' ratings for Payment Data Systems and related companies with MarketBeat.com's FREE daily email newsletter.