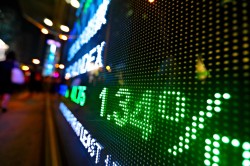 Tuanche's (NYSE:TC) lock-up period will end on Monday, May 20th. Tuanche had issued 2,600,000 shares in its public offering on November 20th. The total size of the offering was $20,280,000 based on an initial share price of $7.80. Shares of the company owned by company insiders and major shareholders will be eligible for trade following the end of the lock-up period.
Separately, Maxim Group assumed coverage on shares of Tuanche in a research report on Tuesday, February 5th. They set a "buy" rating and a $13.00 price objective for the company.
TC opened at $6.87 on Monday. Tuanche has a twelve month low of $6.01 and a twelve month high of $7.93.
Tuanche (NYSE:TC) last posted its quarterly earnings data on Tuesday, March 26th. The company reported ($0.08) earnings per share for the quarter, missing the Thomson Reuters' consensus estimate of ($0.04) by ($0.04). The company had revenue of $32.93 million for the quarter.
TRADEMARK VIOLATION NOTICE: "Tuanche's Lock-Up Period Will Expire on May 20th (NYSE:TC)" was first posted by American Banking News and is owned by of American Banking News. If you are reading this report on another site, it was stolen and reposted in violation of US & international copyright law. The legal version of this report can be accessed at https://www.americanbankingnews.com/2019/05/13/tuanches-lock-up-period-will-expire-on-may-20th-nysetc.html.
Tuanche Company Profile
TuanChe Limited operates as an omni-channel automotive marketplace in China. It organizes auto shows and group events that attract various consumers, as well as provides integrated marketing solutions to its industry customers, which include automakers, franchised dealerships, secondary dealers, and automotive service providers and enable interactions between participants on both sides of a potential transaction, creating a many-to-many environment.
Recommended Story: Economic Reports
Receive News & Ratings for Tuanche Daily - Enter your email address below to receive a concise daily summary of the latest news and analysts' ratings for Tuanche and related companies with MarketBeat.com's FREE daily email newsletter.